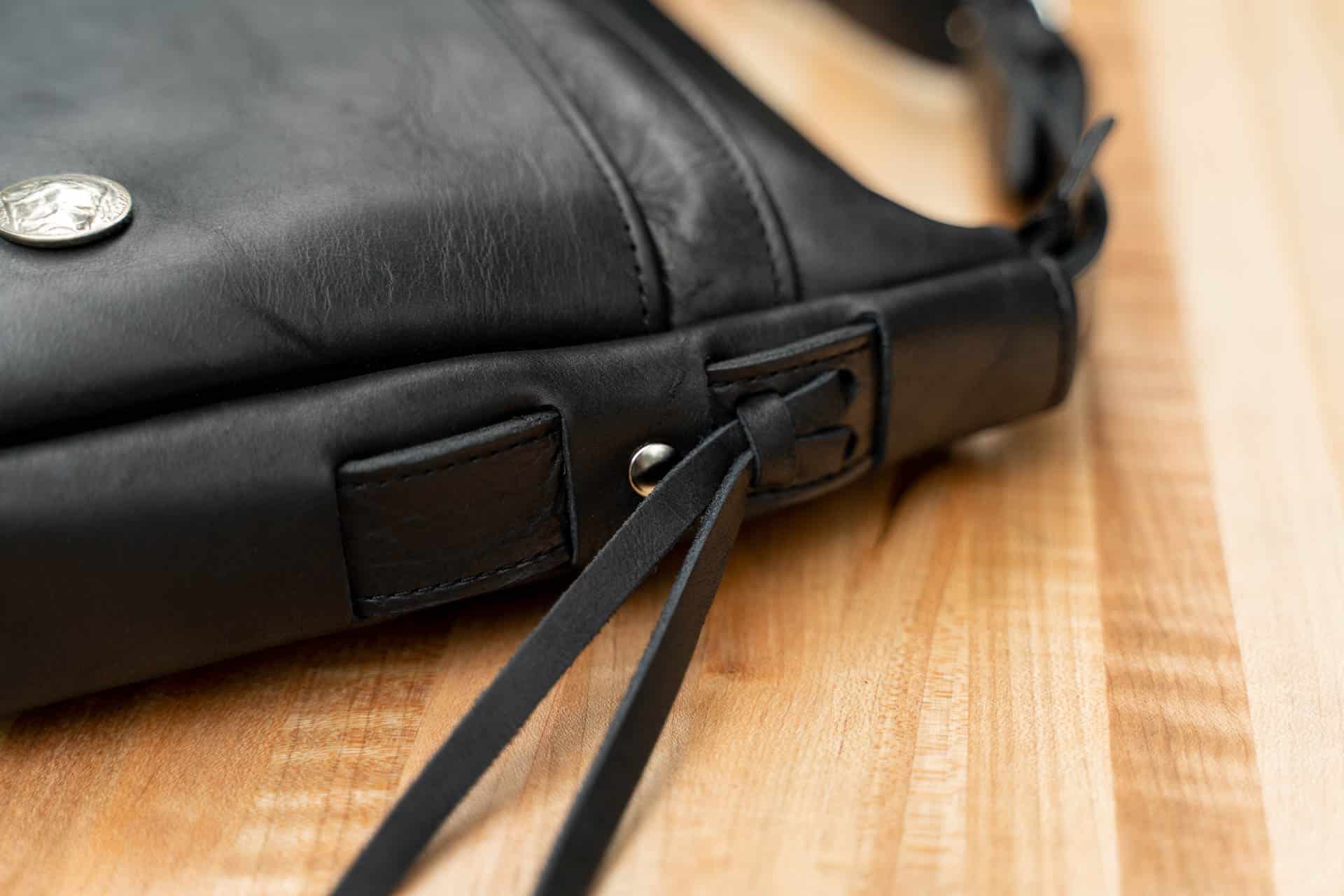 Dakota Purse – Made from Buffalo Leather
Our Dakota Purse is perfect if you're looking for something practical and elegant. This is the largest purse we make with a crossbody design. As a result, you can carry everything you need hands-free! Like all our products, we handcraft this purse from American Bison leather. We require the tannery to add a special finish on the back side of the leather. For that reason, we don't need to use a fabric lining. Compared to the durability of real leather, fabric wears out much too quickly. No cutting corners here! Instead, the Dakota Leather Purse is made by hand using only full grain buffalo leather. We even fasten the decorative leather lacing on the gussets by hand. The Dakota Buffalo Leather Purse is as resilient and beautiful as the West that inspired it.
Interior Dimensions
Width: 11 inches
Height: 8 inches
Depth: 3 inches
Exterior Dimensions
Width: 12.5 inches
Height: 9 inches
Depth: 3 inches
Pocket Dimensions
2 exterior pockets – 6″ x 6″
1 interior pocket – 11″ x 6.5″
1 interior pocket – 7″ x 3″
Carrying Length
The carrying length of the strap on this purse can be from 23″ to 28″ and can vary two inch or so in either direction.
Dakota Purse
The Dakota Purse is a large leather crossbody purse that is packed with great features. It has one interior pocket with a divider to help keep things accessible and organized. The front of the purse has two side-by-side pockets. It is the perfect place for your phone! We adorn the front pocket of the Dakota Leather Purse with a genuine buffalo nickel. The Dakota has a one inch wide strap that will rest comfortably on your shoulder. You can also use the real brass buckle on the shoulder strap to adjust to the perfect length. You will love this large crossbody purse for years. The leather develops a patina with use, so it will look even better over time. Handcrafted by our skilled leather smiths, the Dakota Purse is Made in USA and built to last.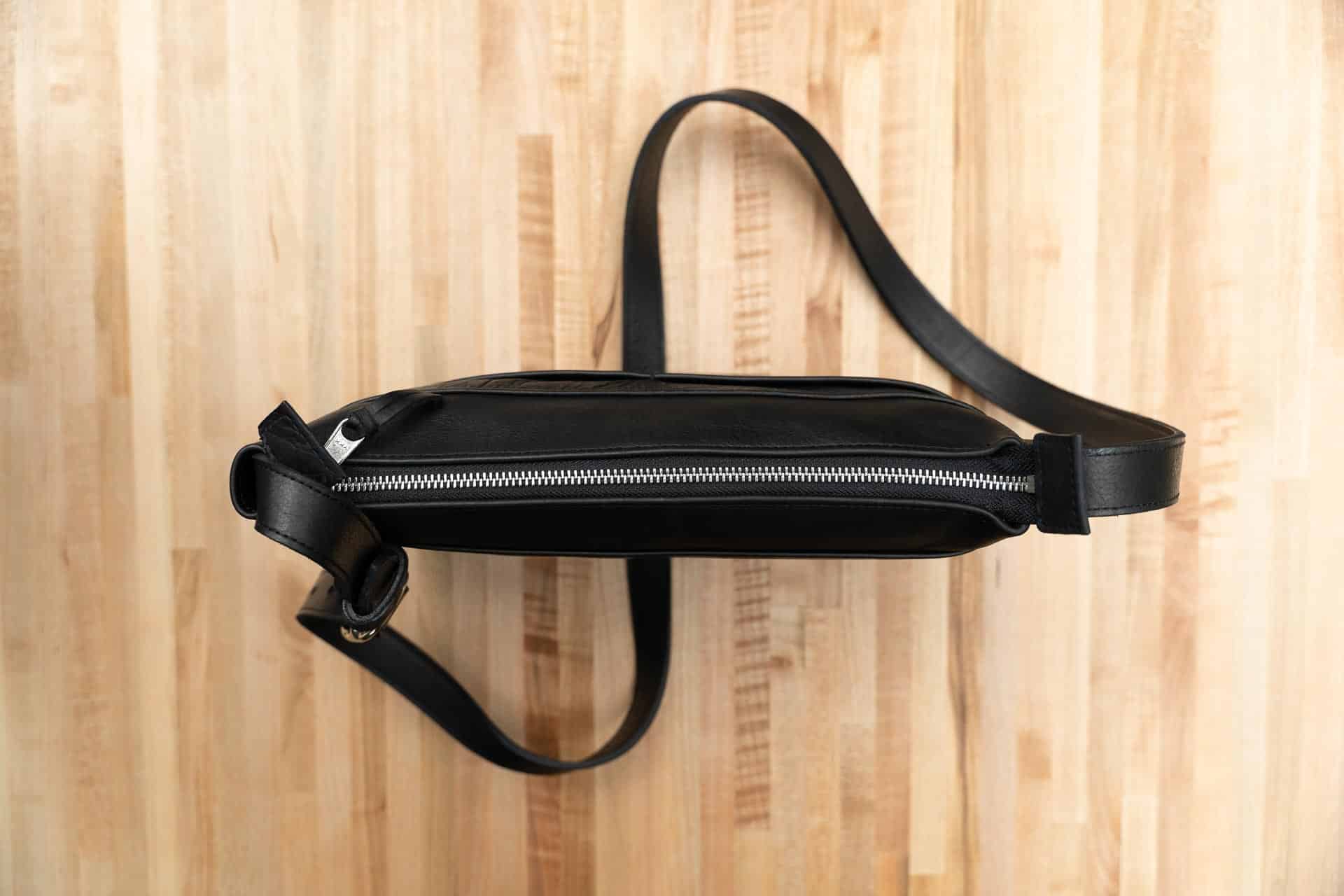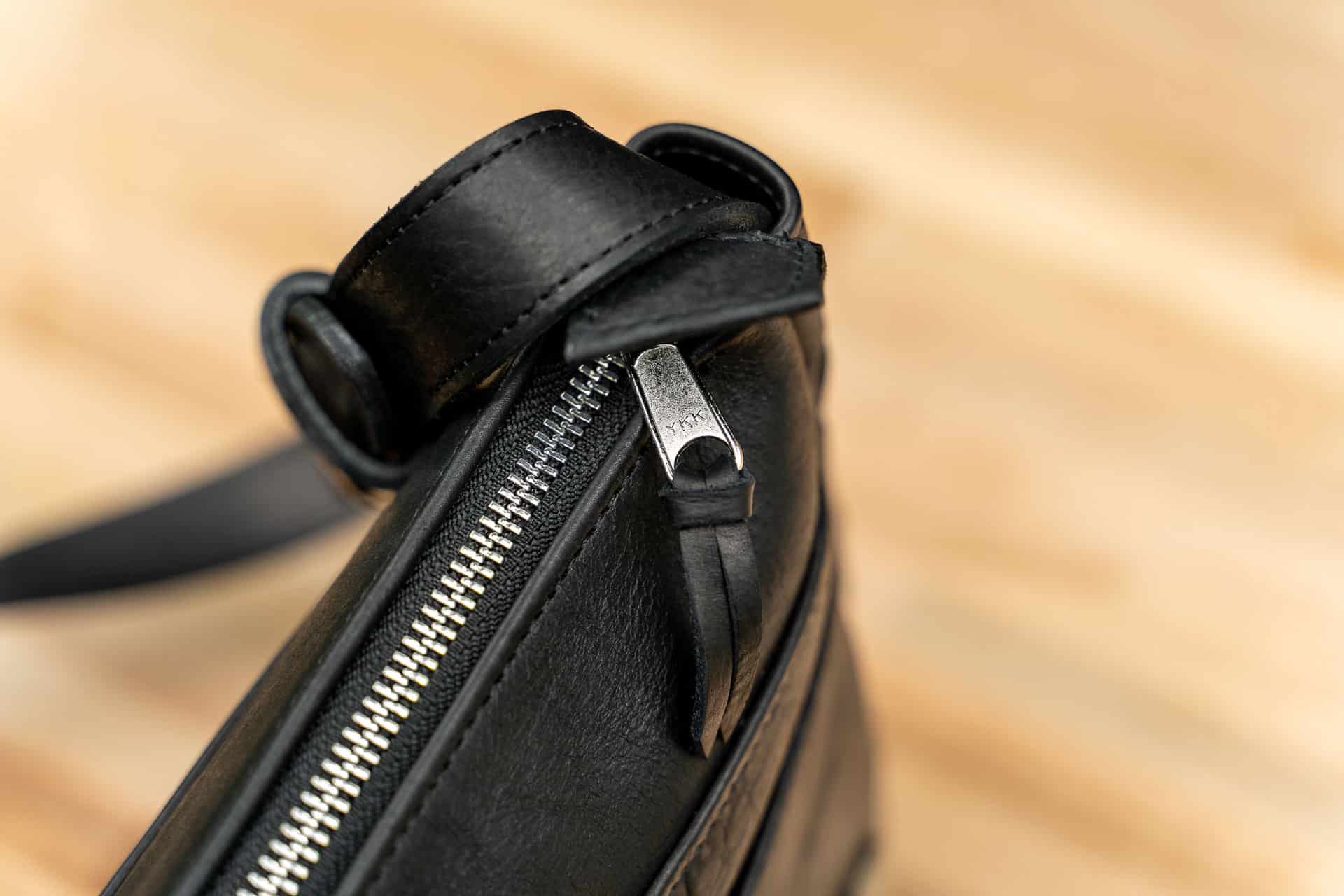 Nickel Plated Brass Zipper
The Dakota Purse features a nickel plated solid brass zipper that will keep your belongings safe and secure. We use one of the best and strongest zippers there is, so you can open and close this purse time after time and know that it's going to hold up.
Adjustable Strap
You can get this purse sitting on your shoulder at just the right height with this adjustable strap. The strap on this purse has five holes spaced approximately one inch apart so you can adjust this strap up to 5 inches. This adjustable strap very durable because it's made from full grain leather.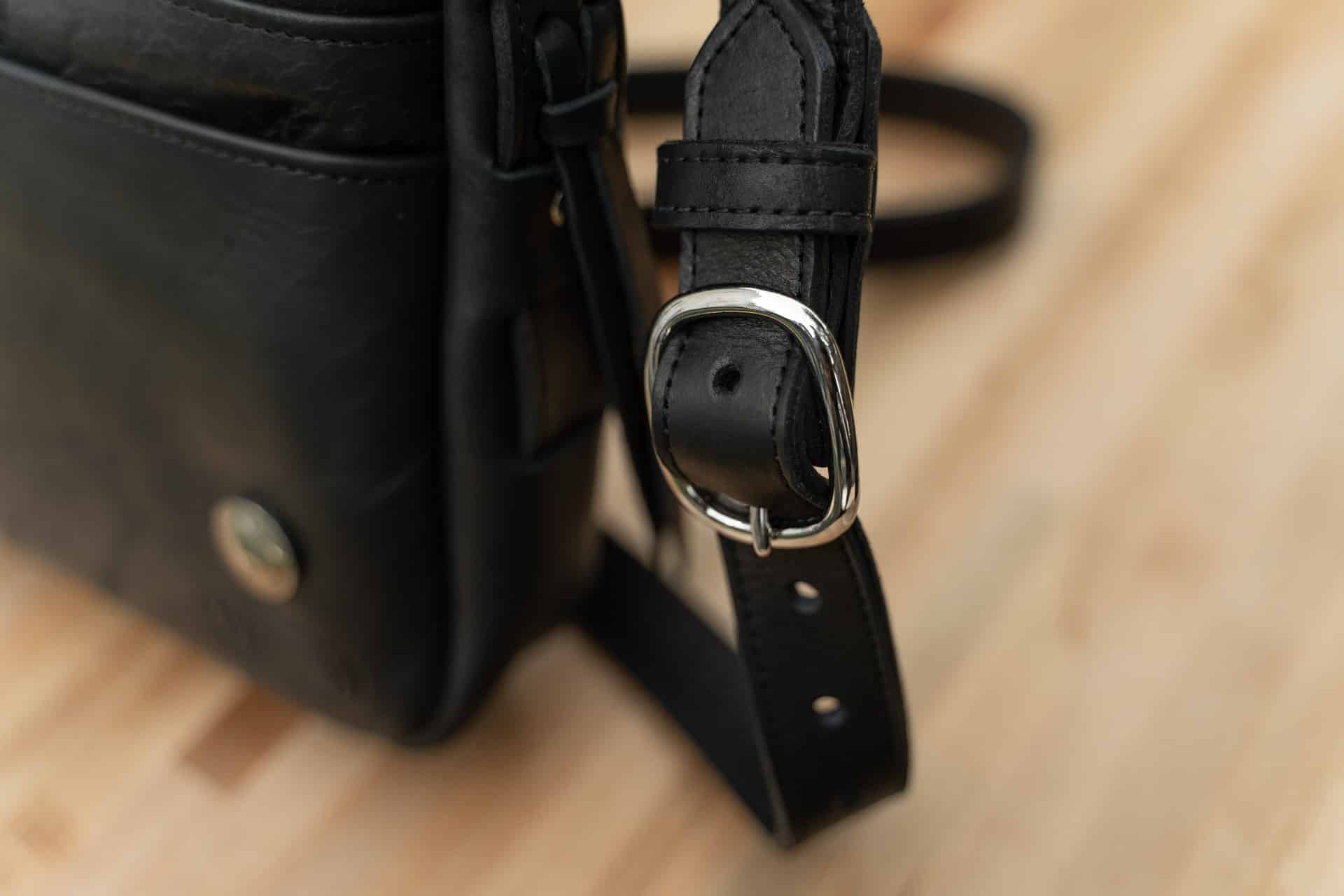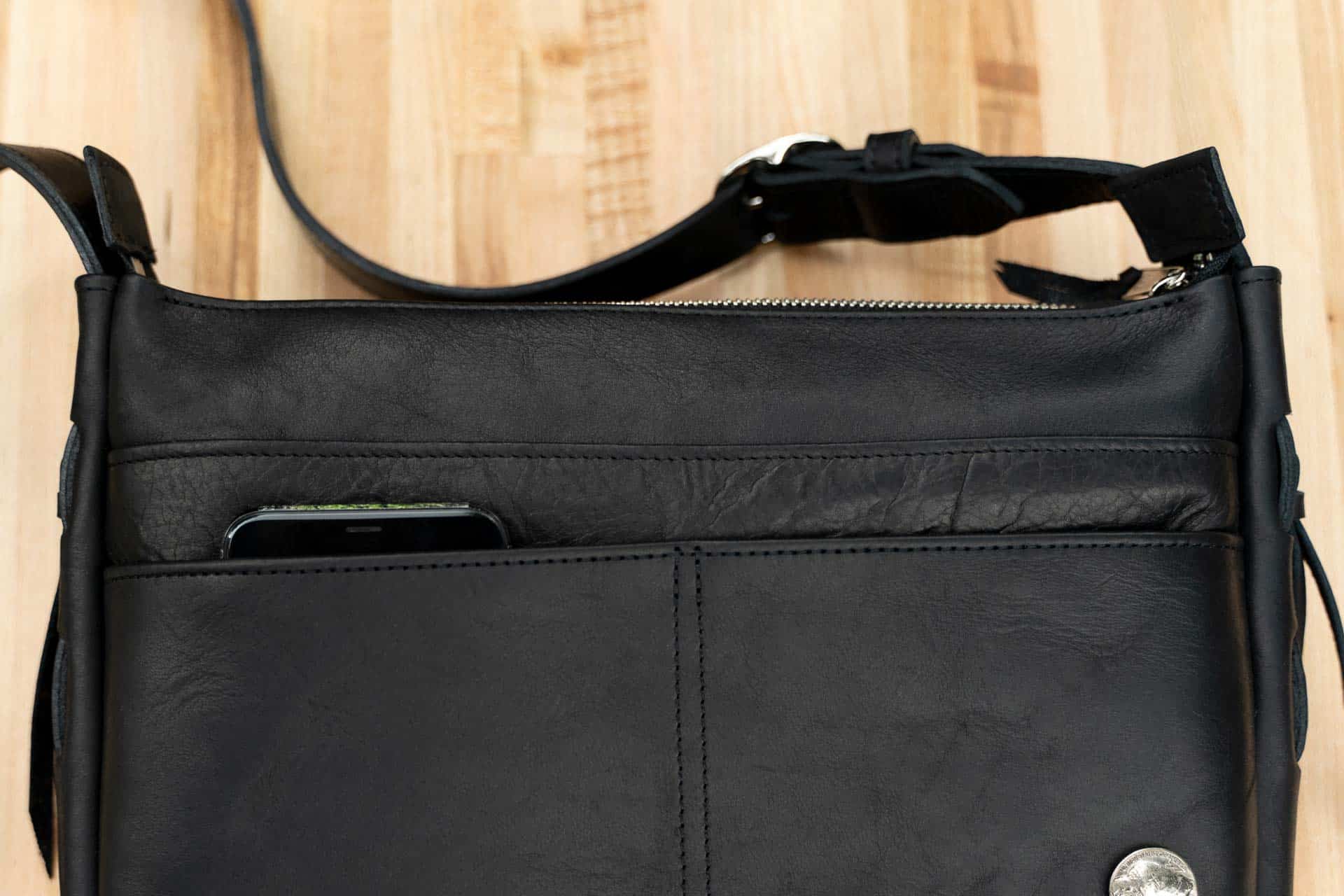 Phone Pocket
We added a phone pocket in the Dakota Purse because you use your phone every day, and you use it often. Taking it in and out of the main pouch can be time consuming and annoying. Besides, your phone can get scratched in the main pouch. That's why we've added two pockets on the front of this purse. Pictured in the pocket is an iPhone X, but it will hold many phone sizes including iPhones, Androids and more.
Detachable Keyring
The Dakota Purse comes with a detachable keyring so you don't lose your keys in the bottom of your purse anymore! This leather keyring is made from the same black leather used to make your purse so it matches perfectly.