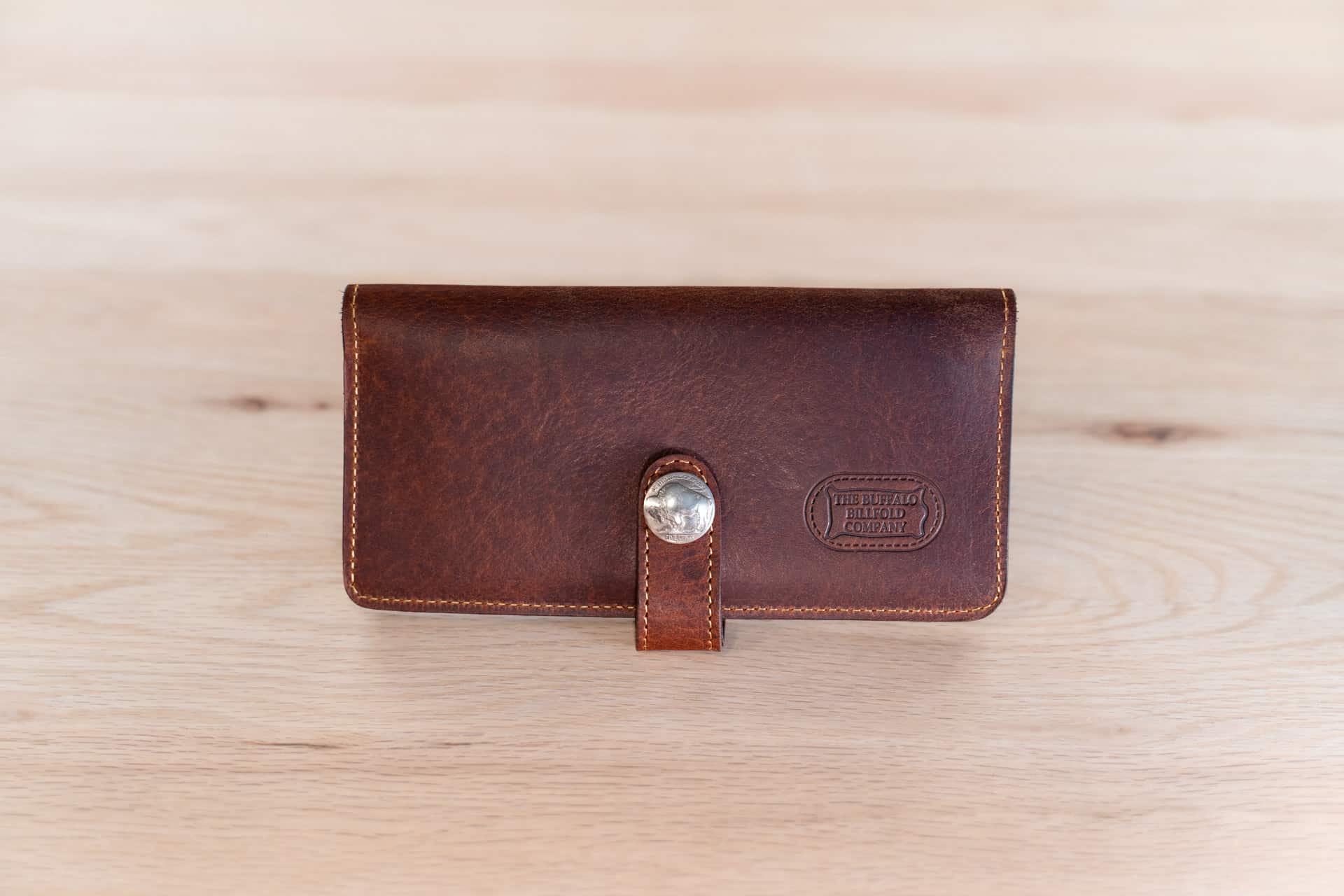 Womens Slim Leather Wallet
Get your hands on our womens slim leather wallet and you're not going to want to let go. We designed it for the woman who wants to have it all. The Dakota Slim has a place for everything you need, while the clean lines and thin profile give it a minimalist feel. It folds in half and snaps shut with a genuine buffalo nickel snap to easily fit in your purse. Your cards and cash will be safe and secure! When folded closed, our women's slim leather wallet measures 7 ¾ inches long and 4 inches wide. We make it entirely from full grain Buffalo leather so that it will endure years of use. However, that full grain leather doesn't add bulk. This slim billfold is packed with pockets and only about ½ inch thick!
Thin Wallet for Women
Women love this thin wallet. It's slim design makes it fit just about anywhere! Use it as a wallet in your everyday purse (it pairs well with our Dakota Buffalo Leather Purse). You can also slip it in the back pocket of most jeans for quick errands or even carry it as a stand-alone clutch for an evening out. Since it is handmade from full grain leather, it will stand the test of time. Our leather is soft, strong and smooth. It feels good in your hand and develops an amazing patina over time. Available in either black or chocolate brown, this thin wallet will suit any occasion. Not only is the Dakota Slim a functional and beautiful choice for a wallet, it is a patriotic one too! Made in the USA from American Bison Leather, our women's slim leather wallet is built to last!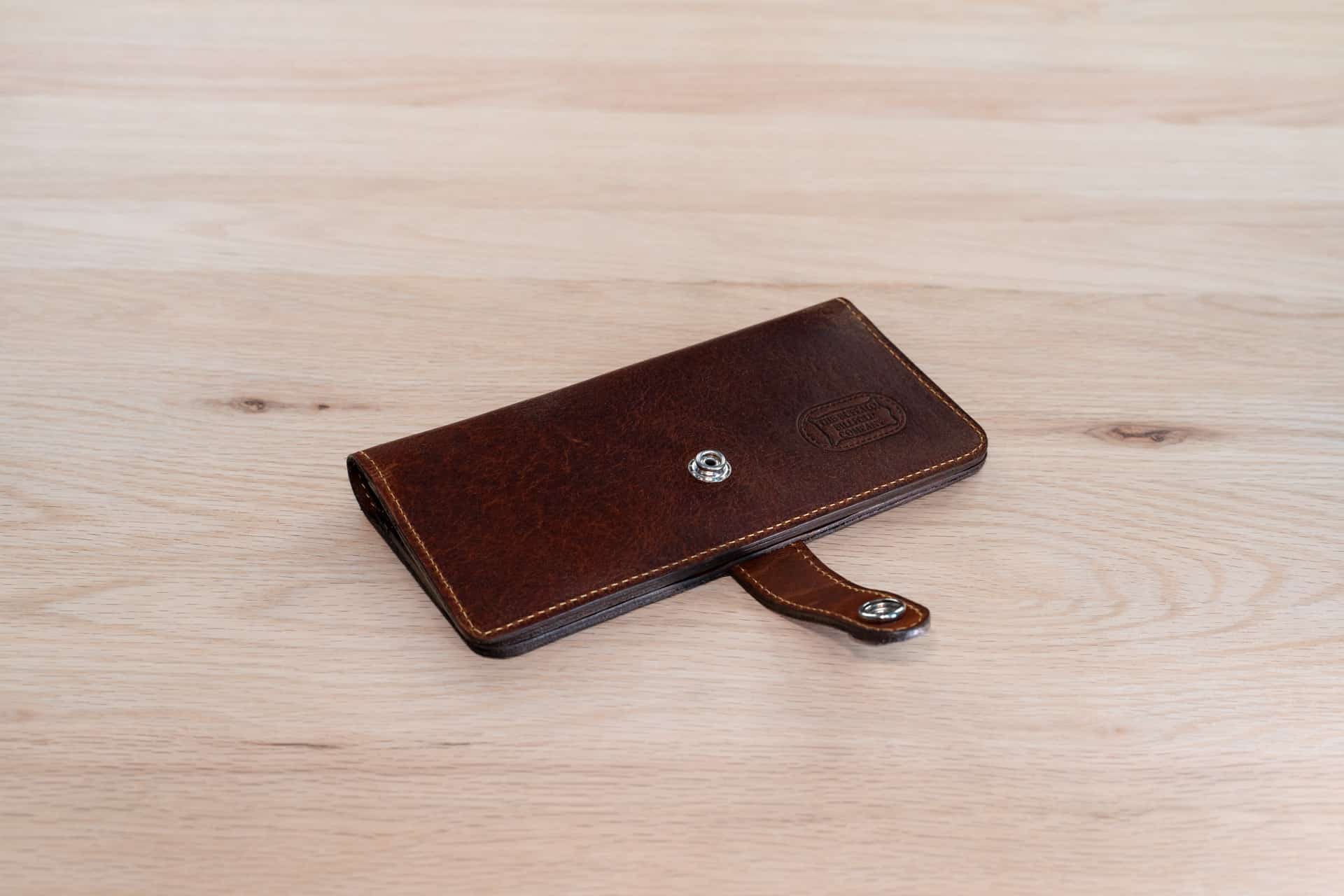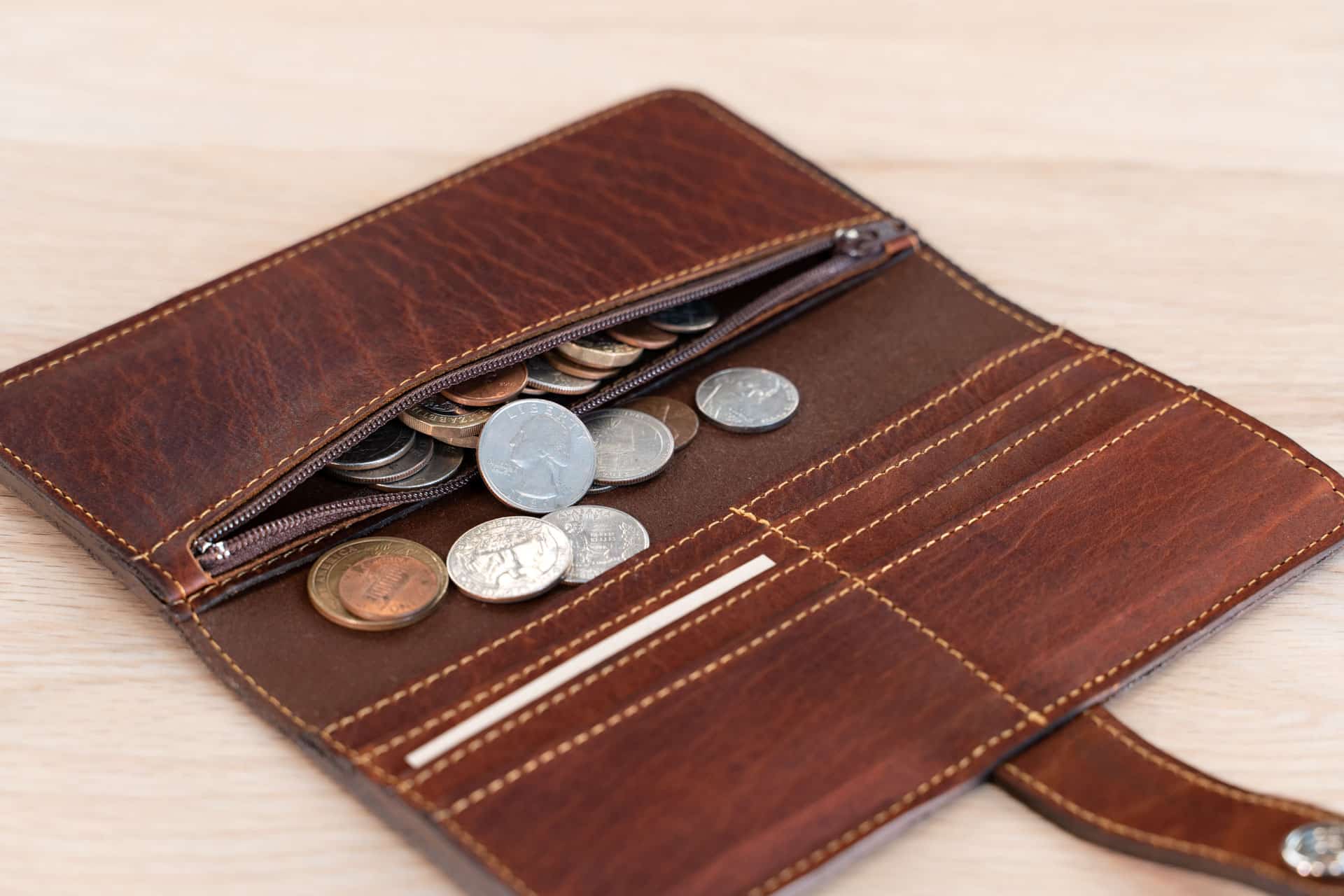 Zip Change Pouch, Credit Card and Bill Slots
With a zip change pouch, card pockets, and bill slots, this wallet is the ultimate in versatility. There is a place for everything! The zip pocket holds plenty of coins, but is large enough for coupons, receipts or even stashing extra cash! On the opposite side are 6 credit card pockets: they keep everything organized and within reach. No need to pick and choose which cards to keep in view. The three separate bill pockets make it easy to keep cash and receipts organized. Since they are slightly larger than dollar size, you could even slip in your checkbook or smartphone! This wallet is easy to organize, easy to access, and easy to use. The Women's Slim Leather Wallet really does have it all.
Made in USA
We craft this Slim Bifold Wallet in our workshop in Worthington, MN, USA. Our master leathersmiths make sure that every piece of leather, every stitch sewn, and every thread trimmed is done to our highest standards. Our Leather Wallets & Billfolds, including this slim leather wallet are Made in USA and built to last.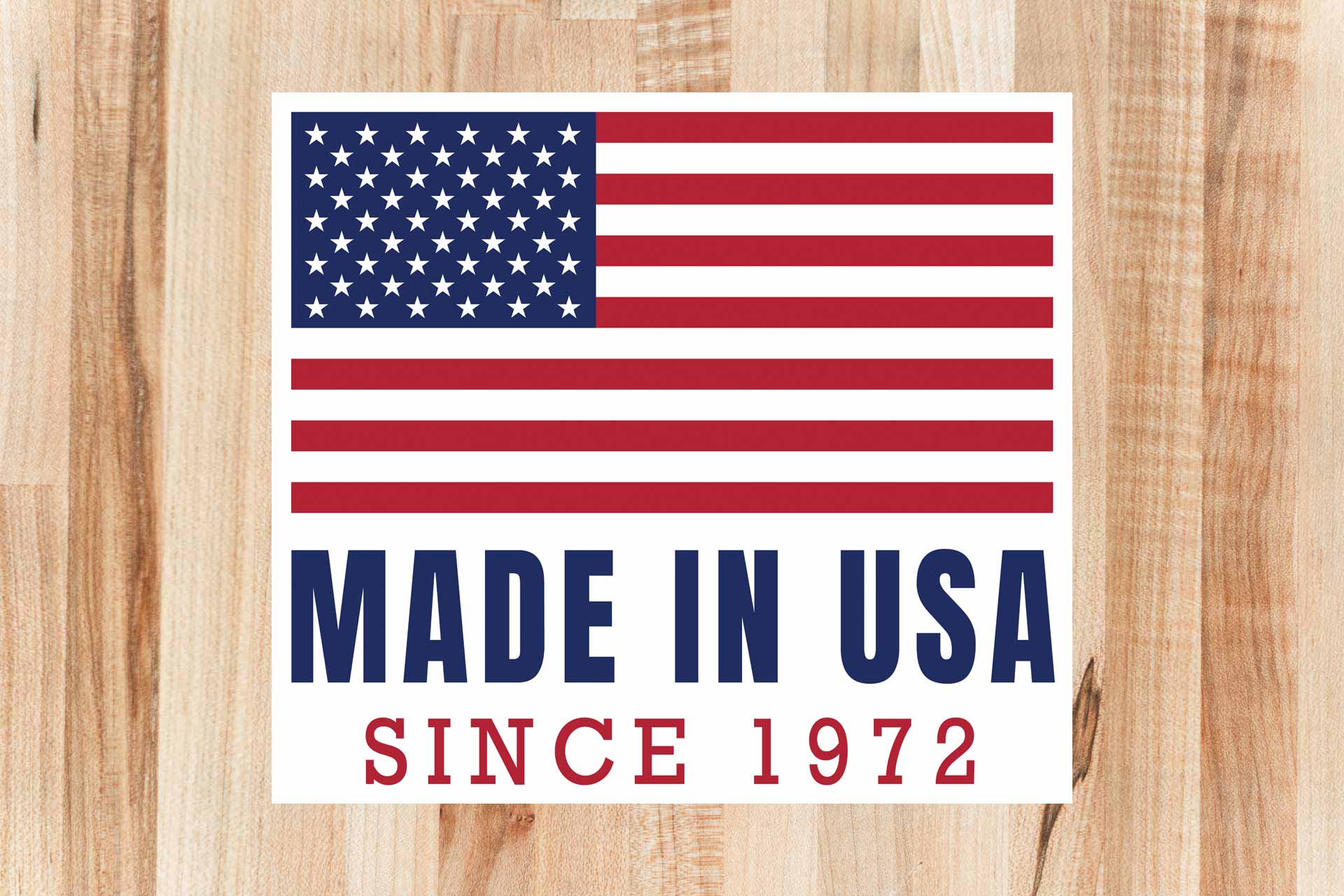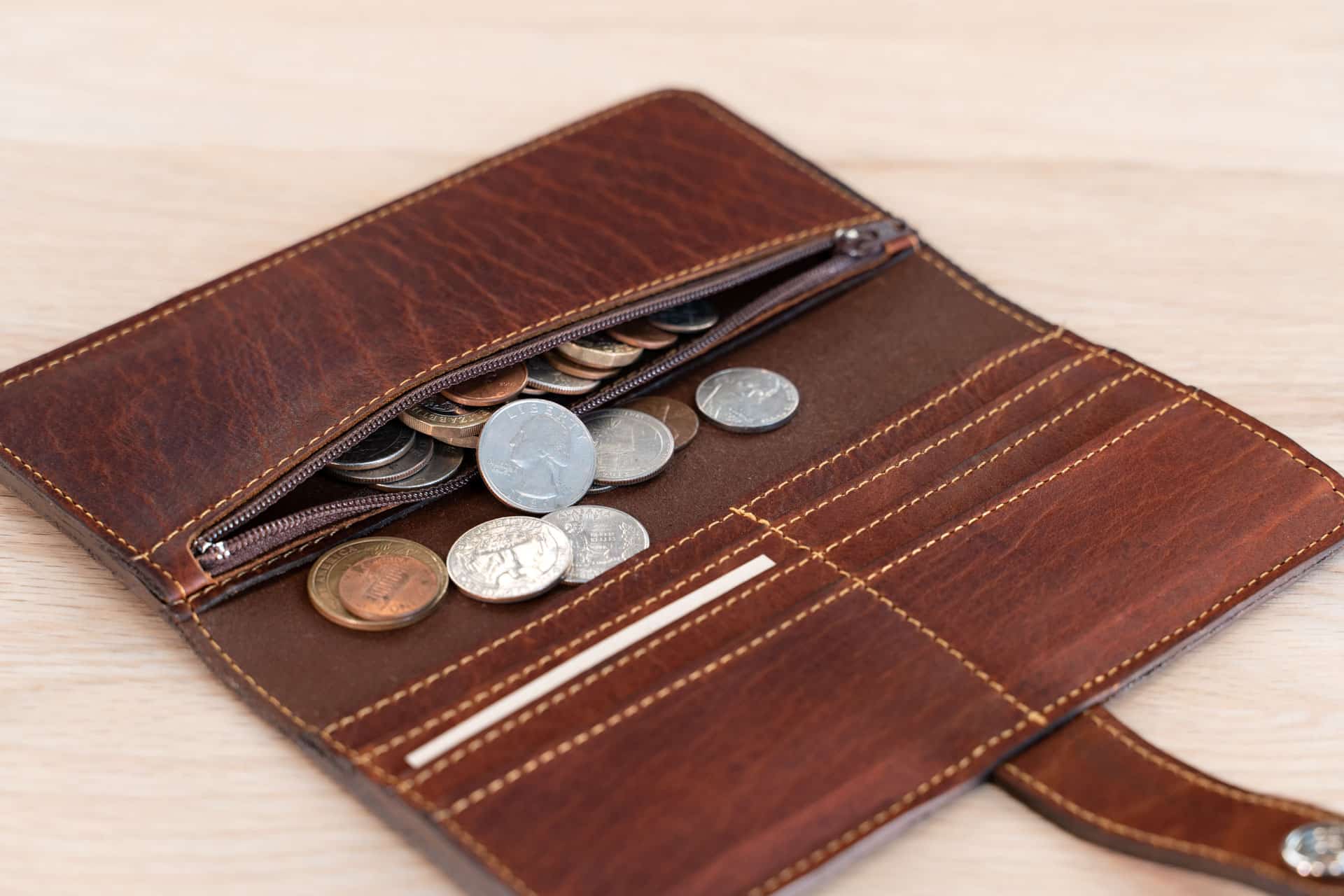 Full Grain Leather
Our Women's Slim Leather Wallet is made using Full Grain Leather. Full Grain Leather is the best grade leather and best quality leather. This type of leather is durable, breathable, and strong. It has not been sanded down, so it contains natural markings. Your Leather Wallet will be as unique as you are!