We Know Leather
My wife and I have been leathersmiths for a combined total of over 102 years! We have tanned hundreds of thousands of feet of Buffalo hide, and we have tanned it in many different ways. It's safe to say that we know Buffalo leather. People occasionally ask us, "do leather coasters work?" It is an incredibly simple question. But the answer requires that we first understand what you desire in a leather coaster. Drink Coasters are available in a wide variety of materials: wood, glass, cork, ceramic, paper, rubber. The list goes on. But all these materials fall under two main types: absorbent, and non-absorbent coasters.
Absorbent Coasters
Absorbent coasters function by soaking up condensation from your frosty glass. They are made of permeable materials like cork, bare wood, paper, exposed ceramic, porous stones like sandstone, and natural or naked finish leathers. The coaster is able to soak up the water before it drips onto the table. Some absorbent coaster materials work better than others. You don't want your paper coaster to become soggy all the way through!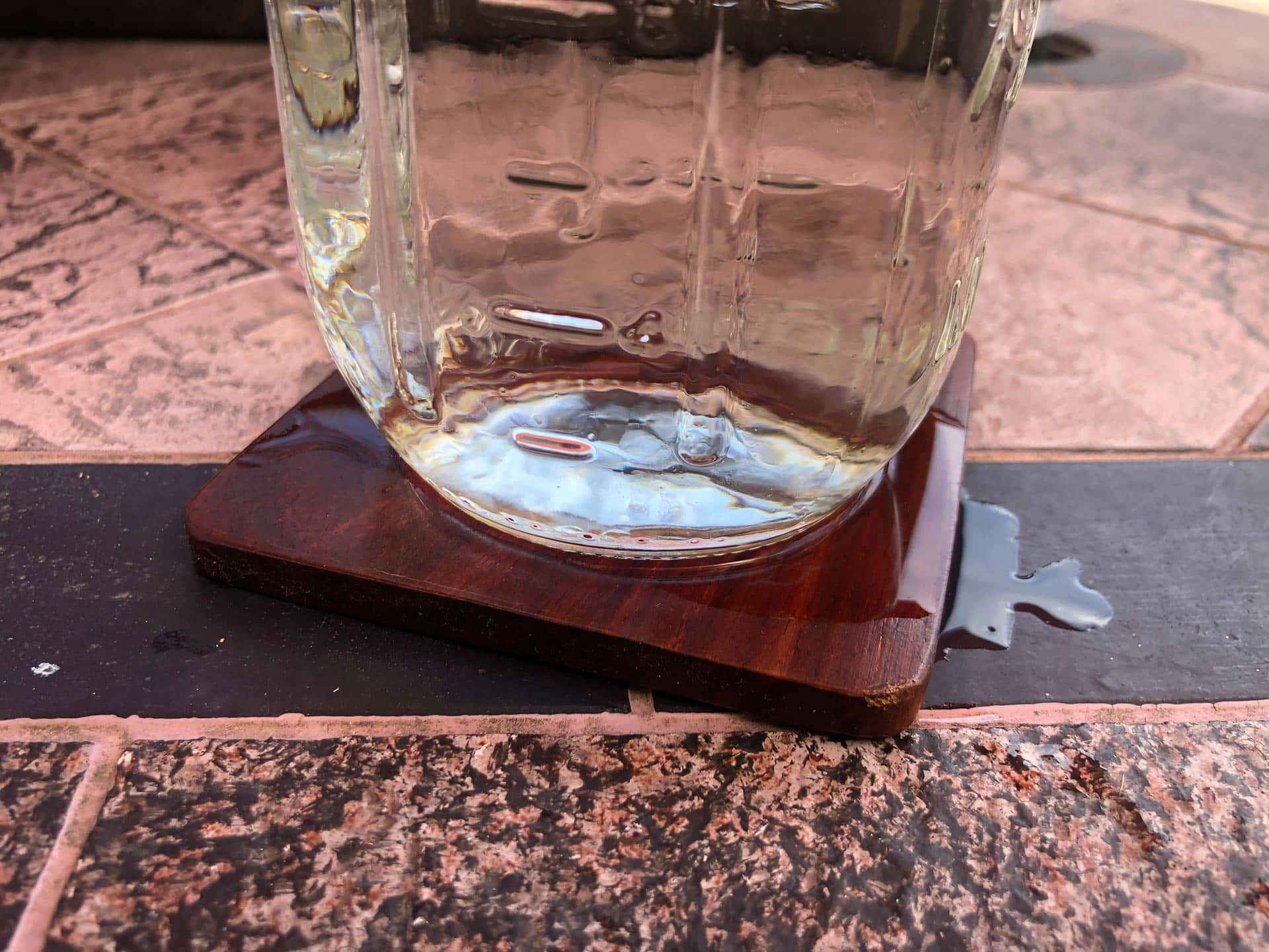 Non-Absorbent Coasters
Non-absorbent coasters will never soak up any water. The condensation that runs down your drink glass will puddle up on these coasters. Non-absorbent coasters include rubber, silicon, glass, glazed ceramic, some types of smooth stone, and corrected grain leather. A corrected grain leather is naturally impervious to water. Therefore, moisture will set on its surface. There is a major drawback to these coasters: the water that puddles up on your coaster will eventually spill off the coaster and on to your table. Kind of defeats the purpose, doesn't it?
The Ideal Coaster
Our buffalo leather coasters really do work. We prefer a tanning method that creates a natural or naked finish on the leather. We do not apply a glossy finish to the leather, so the natural pores are still exposed. That makes them the ideal coaster. Unlike glass or rubber coasters, this leather is highly absorbent. The coaster soaks up moisture so it never spills over onto the table. Unlike paper coasters, buffalo leather isn't too absorbent. It soaks up the water without soaking all the way through. These coasters are soft too. So there is no risk of scratching surfaces. When you are done using your coaster, just let it air dry. Then the moisture it collected will simply evaporate. Your coaster will look good as new, and so will your table!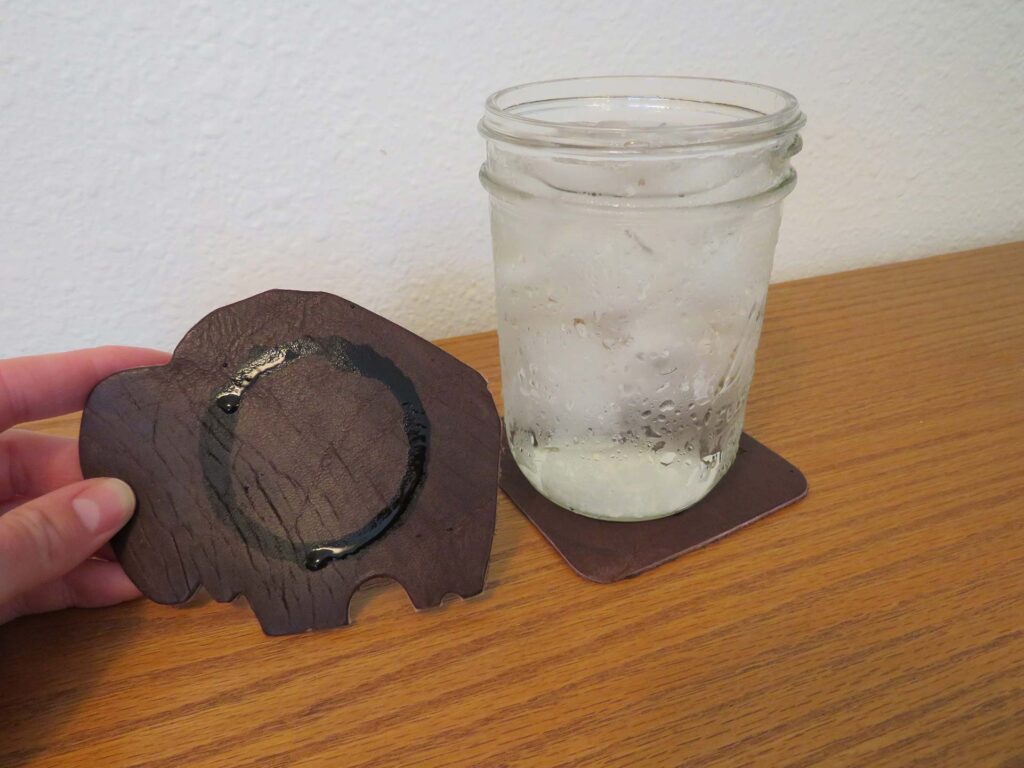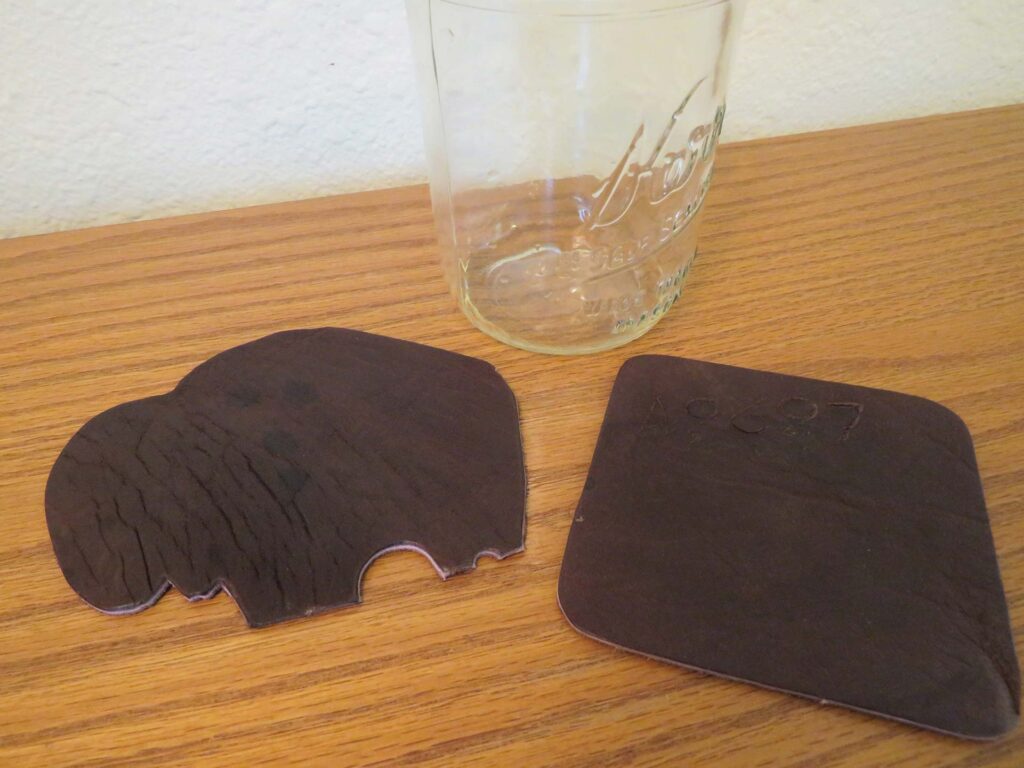 The Premier Choice
Our Buffalo Leather Coasters offer the perfect balance: they absorb water droplets without transferring moisture all the way through to the table top. We offer two styles of leather coasters, the modern square shape coaster or Bison shaped coasters. This Made in USA product is handcrafted from American Bison leather. Full grain Buffalo leather is the premier choice in coasters for all your condensation keeping needs!