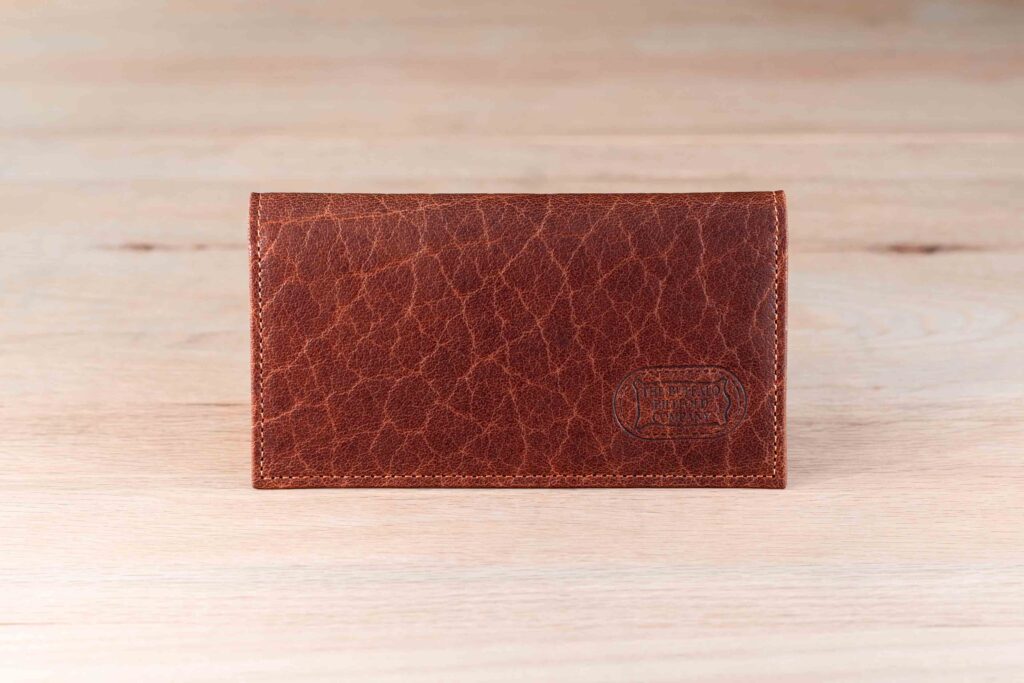 Shrunken Bison Leather Checkbook Cover
You're going to love this shunken Bison leather checkbook cover. Our time-tested leather checkbook is part of our shrunken full grain leather product line. This checkbook cover features a register holder and credit card insert. It will easily fit in all but the smallest of our leather purses as well! You can stay organized and keep your cards, cash and checkbook all in one place! This is a great mens checkbook wallet or women's checkbook wallet. The wallet is handcrafted and built to last. All of our leather goods, including this wallet, are 100% Made in USA.
Closed and Empty
Width: 3 5/8 in
Height: 6 5/8 in
Thickness: 1/4 in
In Your Pocket

(Filled with Checkbook and Register)
Width: 3 5/8 inches
Height: 6 5/8 inches
Thickness: 1/2 inch
Checkbook Cover Opened
Width: 7 3/8 in
Height: 6 5/8 in
Thickness: 1/4 in
Holds Credit Cards
Our checkbook cover comes with a credit card insert so you can hold your cards and ID's. This leather checkbook cover would look great in your leather purse or fit nicely in your back pocket. It also pairs nicely with one of our leather coin cases so you have all of your purchasing power in easy reach!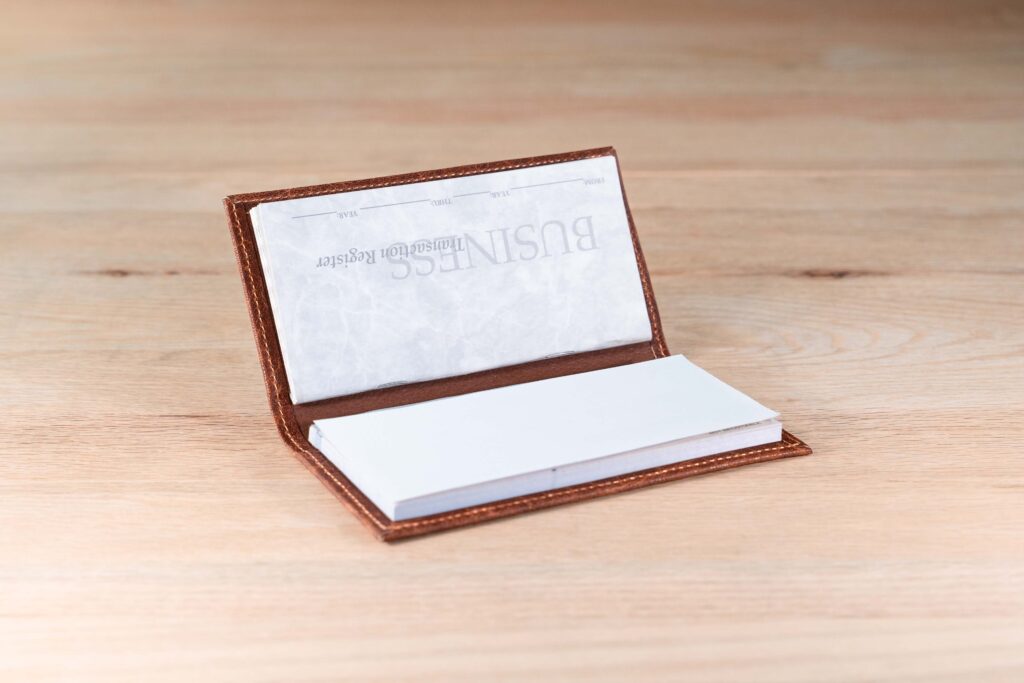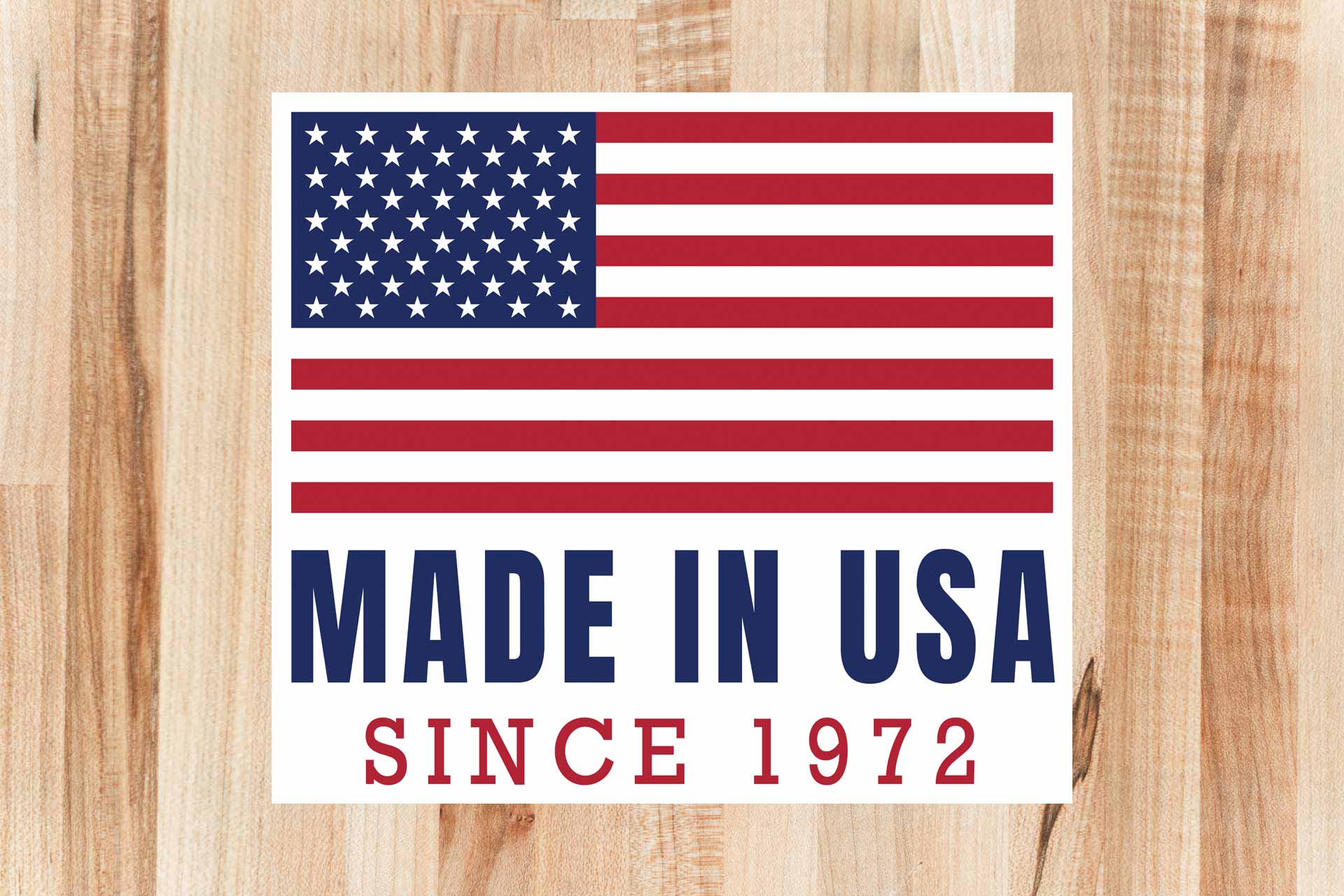 Made in USA
We handcraft this Shrunken Bison leather Checkbook Cover at our workshop in Worthington, MN. We make our leather goods personally because we want to ensure that everything that leaves the Buffalo Billfold Company holds up to our exacting standards. This shrunken leather cover is Made in USA and built to last.
Shrunken Bison Leather
Our mens checkbook wallet is made with premium shrunken full grain leather from American Bison hides. This is even stronger than full grain leather because it has an even more dense grain structure. This premium checkbook cover is Made in USA and built to last.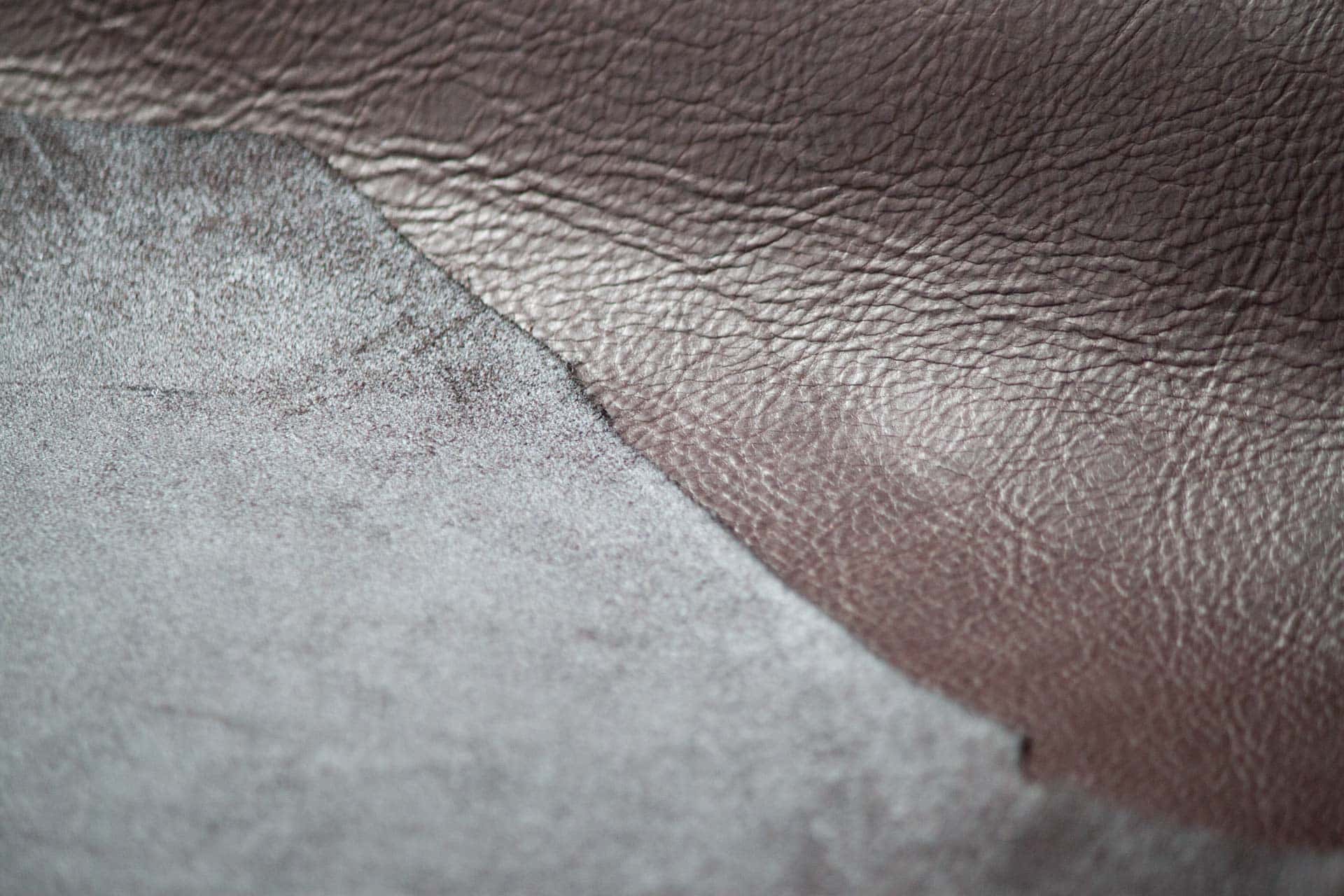 Handmade
Our premium leather checkbook cover is handmade from shrunken American Bison leather because it's strong and durable. Every stitch in this checkbook is meticulously sewn so it'll hold up well over time. We handpick each piece of leather in our leather so it has a uniformly great look. This checkbook cover for men and women is handcrafted with leather working tools by the leathersmiths in our workshop.