Shrunken Bison Leather Flight Bag
This Shrunken Bison Leather Flight Bag is designed with travel in mind. Handcrafted using shrunken bison leather, this flight bag is heirloom quality and will last for decades to come. This carry on bag has multiple compartments and features strong brass hardware. You will love the craftsmanship of this piece as it is handmade, right here in the USA. Compliment your flight bag with other Shrunken Bison Leather goods!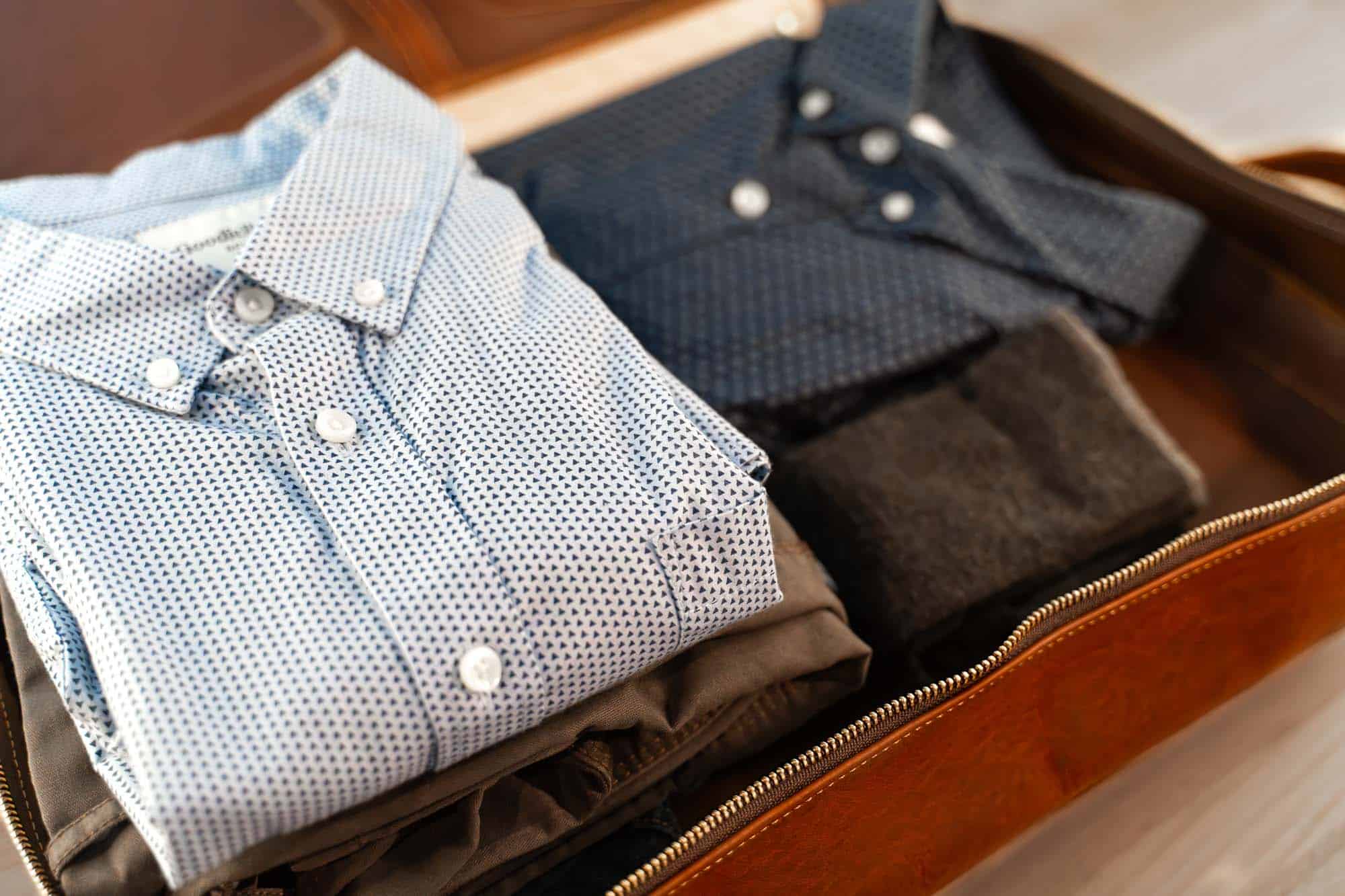 Business Trips & Weekend Getaways
Our Shrunken Bison Leather Flight Bag is ideal for business trips or weekend getaways. It fits neatly into overhead compartments on an airplane or beneath your seat on a train or coach. This sturdy leather bag will give you peace of mind knowing that your belongings are safe and secure.
Rolled Leather Handle
Our Leather Flight Bag features a rolled leather handle. This handle is designed for a comfortable hold. This strong handle makes it easy for you to pick up your bag and put it into the back of a taxi or carry it onto an airplane.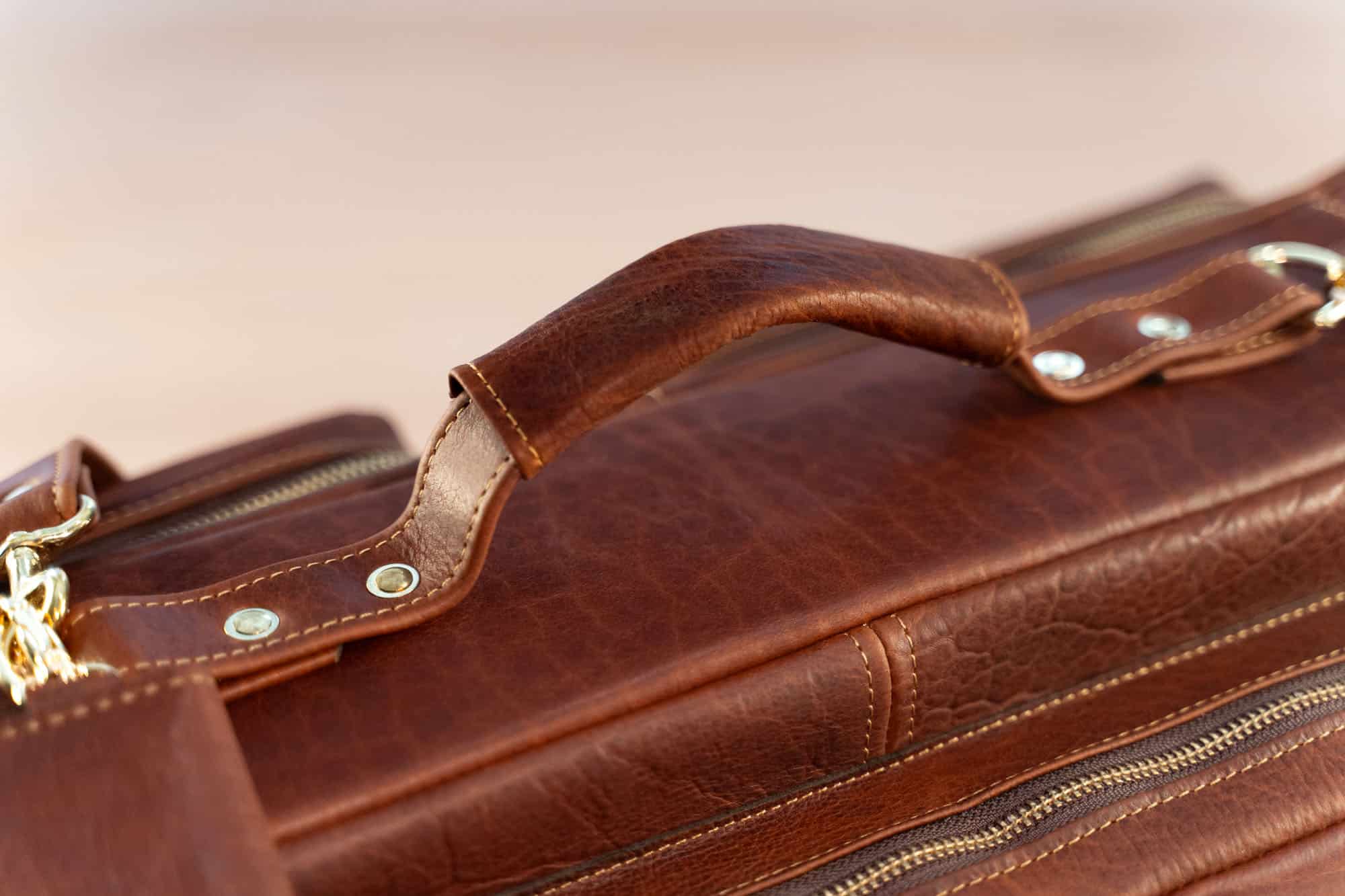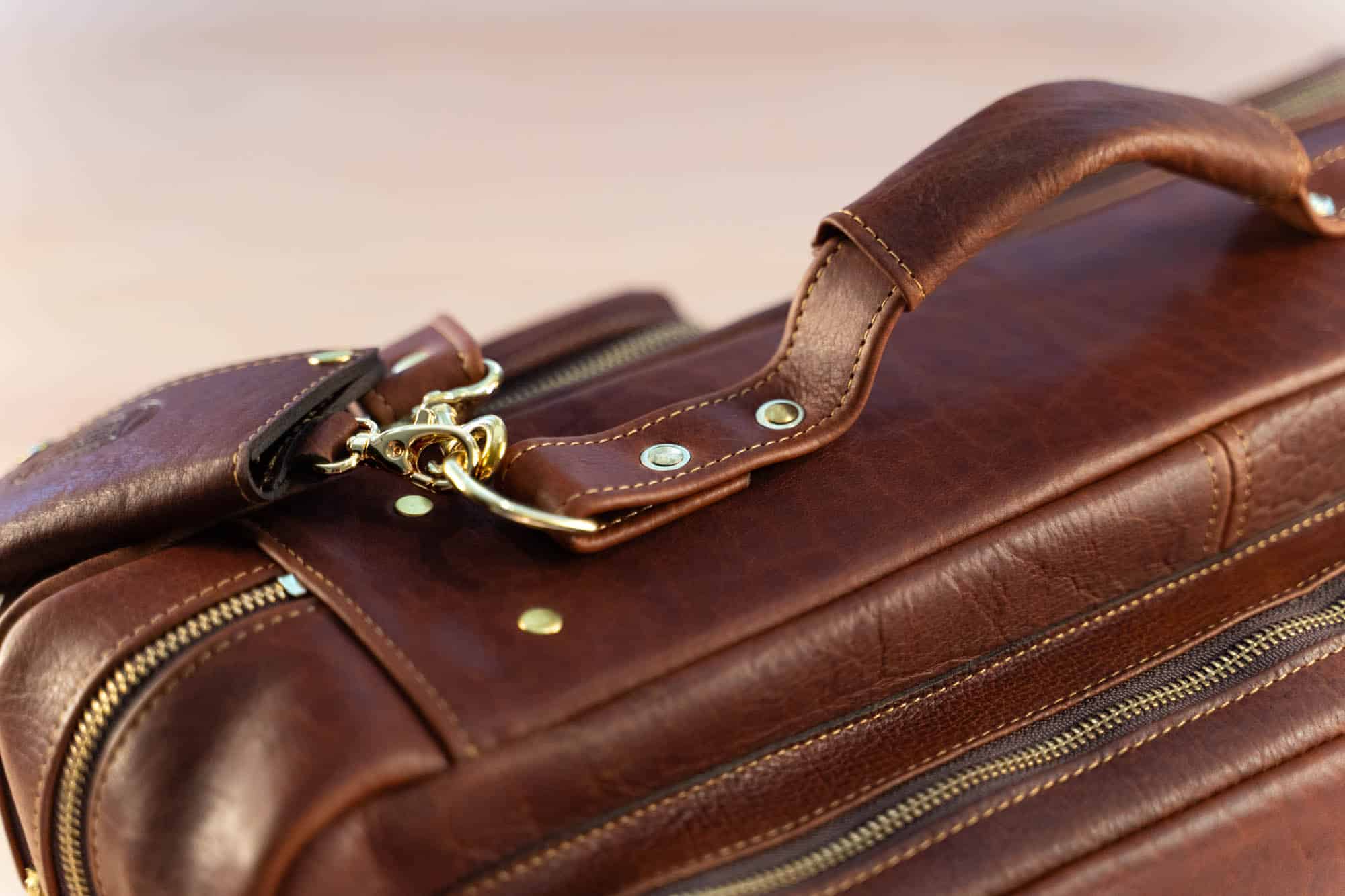 Brass Rivets
We use solid brass rivets for our flight bags. They have a vintage look and really stand out against the red color of the shrunken bison leather. These brass rivets attach the handle firmly to the flight bag. Strong hardware on this bag means you won't have to worry about being in a hurry – just grab and go!
Leather Shoulder Strap with Pad
Getting from your Uber to your flight or from your taxi to your train, you shouldn't have to worry about discomfort in your travels. Our Leather Flight Bag comes with a padded shoulder strap to lessen the strain on your shoulders and keep you feeling comfortable the whole trip through. This leather shoulder strap with pad will sit neatly on your shoulder.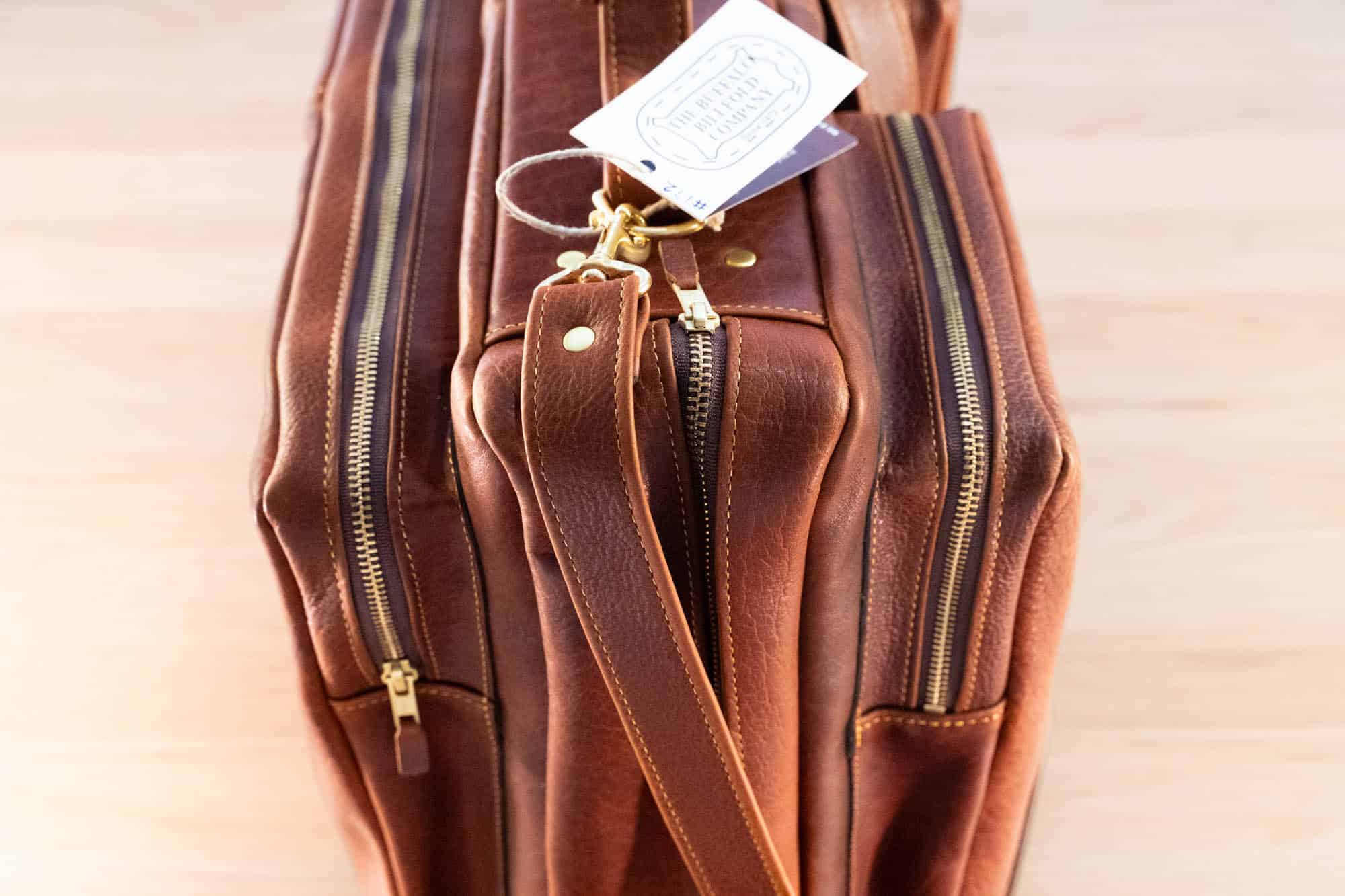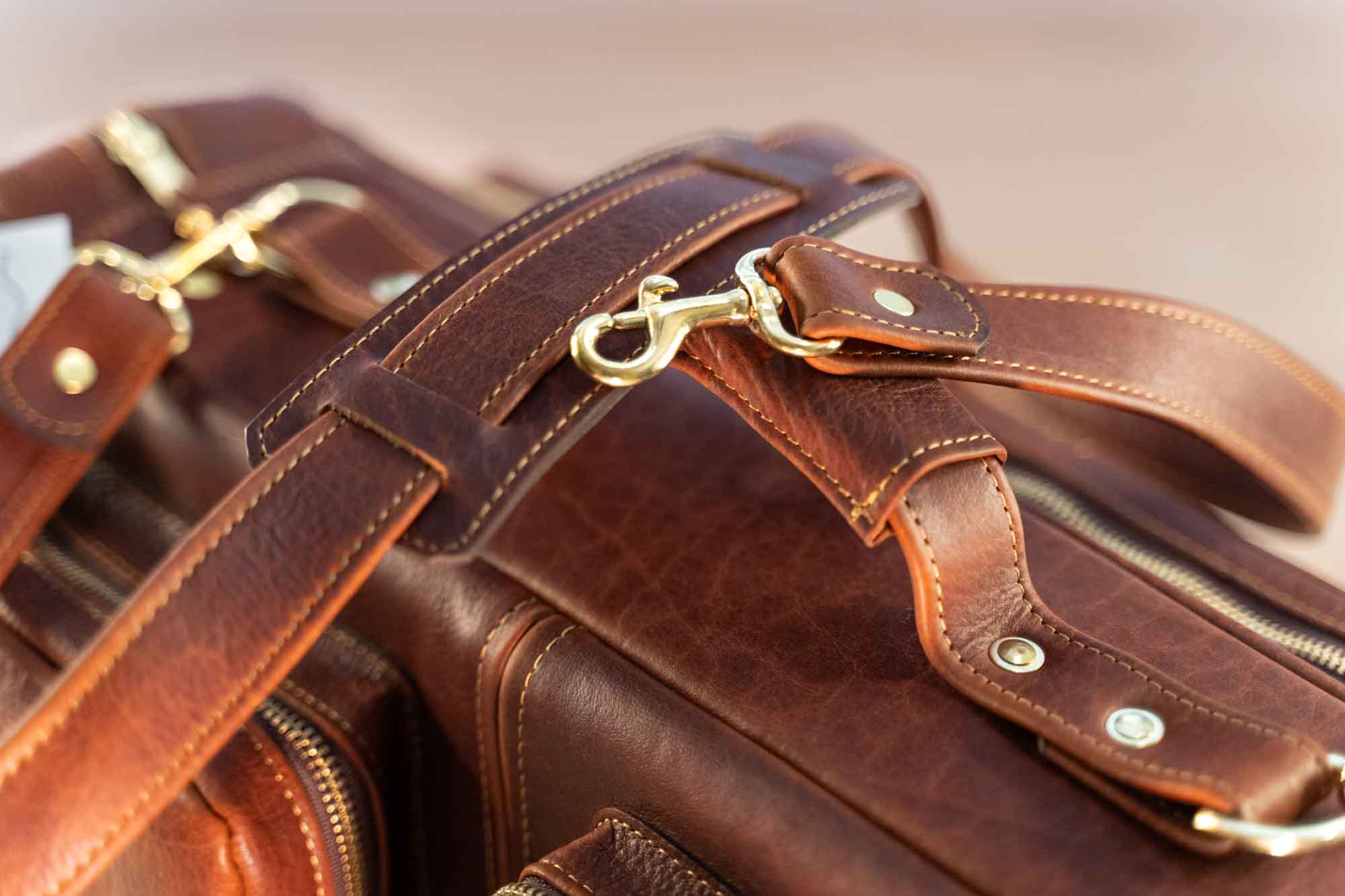 Brass Clips
This Shrunken Bison Leather Flight Bag features brass clips that fasten the strong shoulder strap onto the top of the bag. These brass clips are also removable should you want to take the strap off of your bag.
Leather Luggage Tag
We know the stress of looking for your luggage at an airport terminal or baggage claim, so we made it easy for you to track your luggage. It has solid brass snaps to make sure your information card stays secure while in transit and a strong brass clip for you to add or remove your luggage tag at any time. It is also debossed with our logo, so you can proudly show you support Made in USA.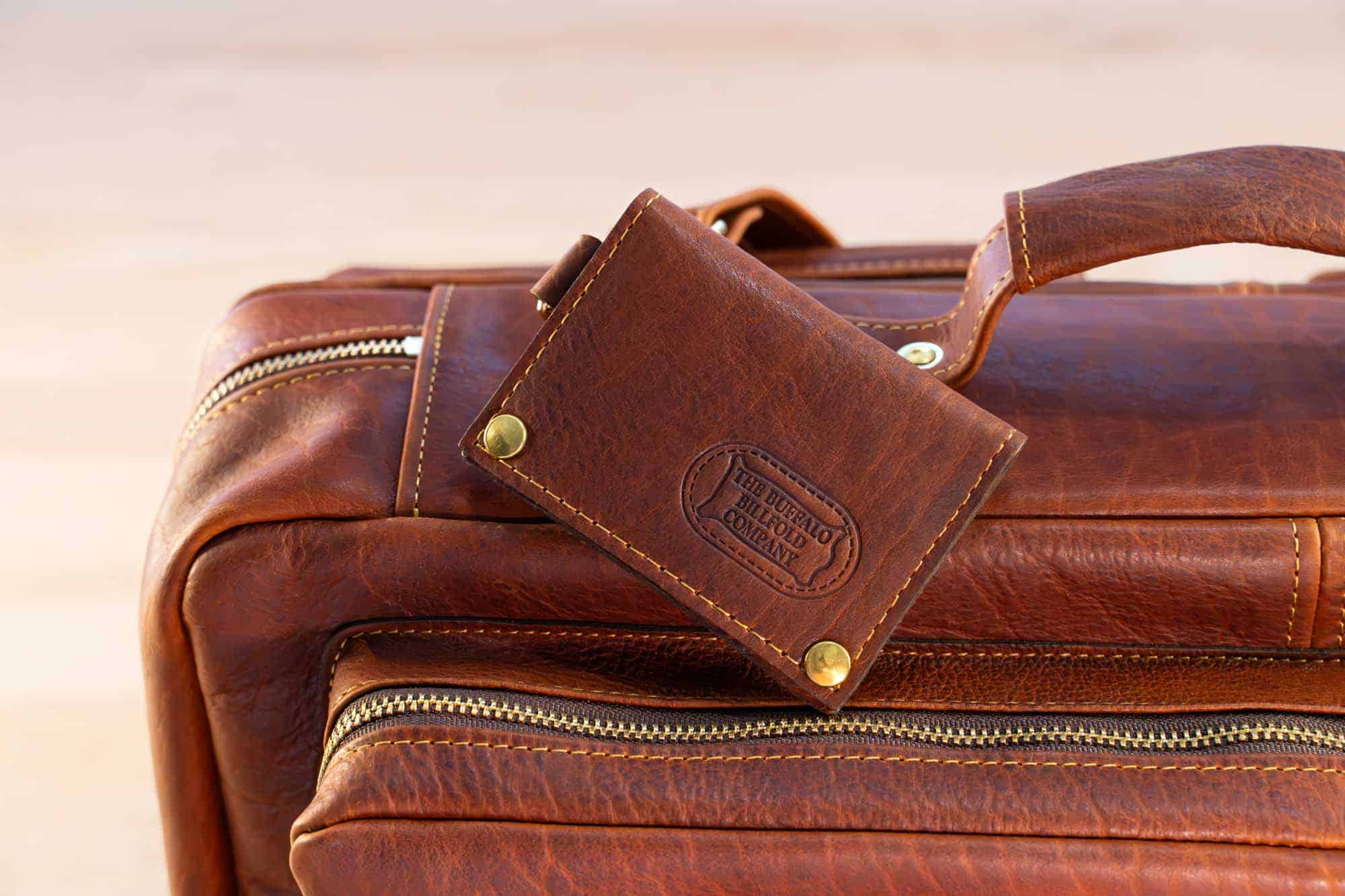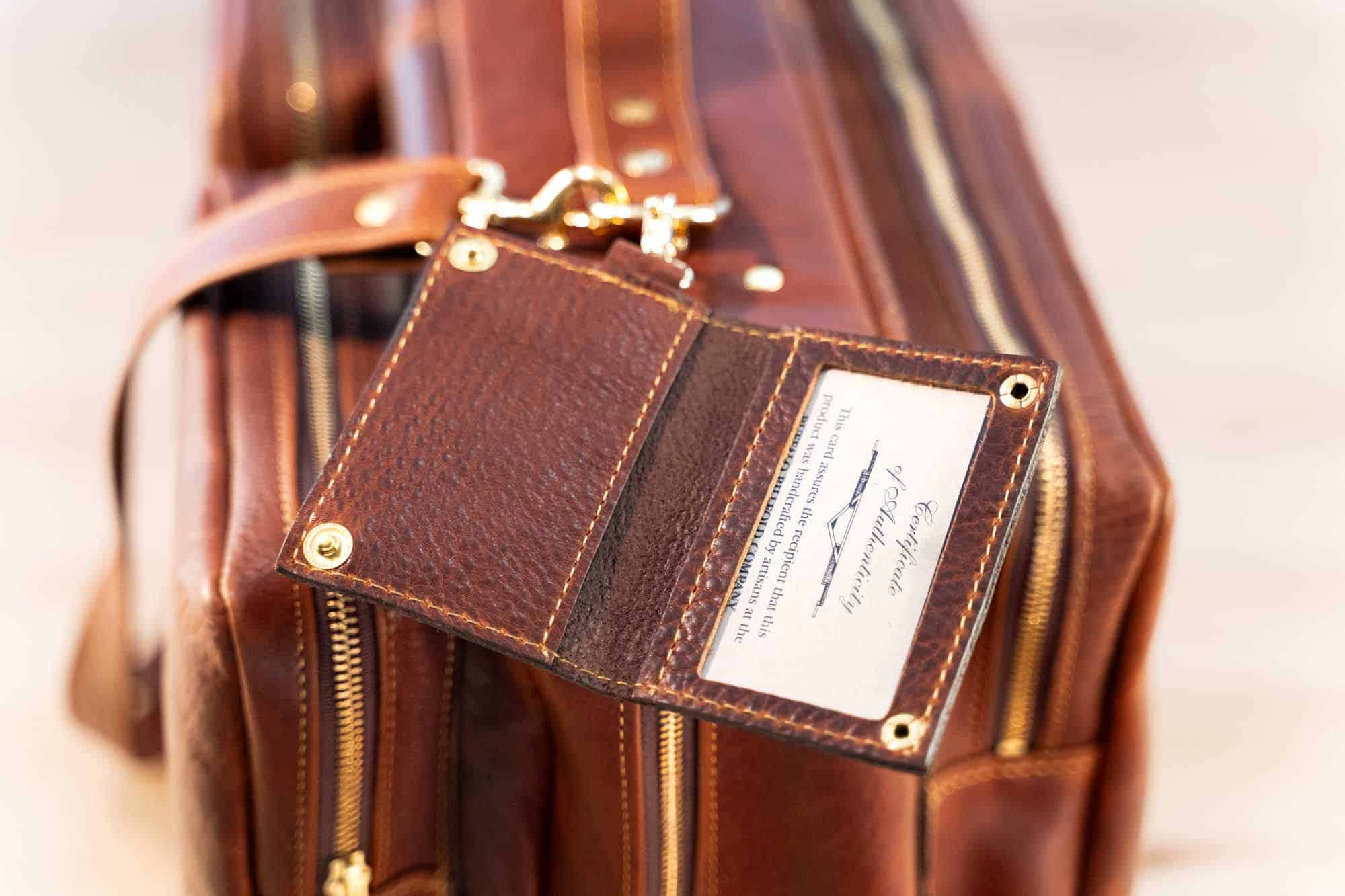 Clear Vinyl Information Window
The luggage tag on our leather flight bags features a clear vinyl window for easy viewing. You can add your name or contact information to a card inside of this window so that you can easily identify your bag or if someone else needs to retrieve your bag for you, you can be easily located.
Three Leather Pockets on Outside
Our Leather Flight Bag features one main compartment, one large pocket and two medium sized pockets. This is ideal for travel to help keep your belongings in easy to access places. Typically people might pack cosmetics or socks in the medium pockets. The larger pocket would be perfect for keeping your devices or charging cords you'll need for your trip.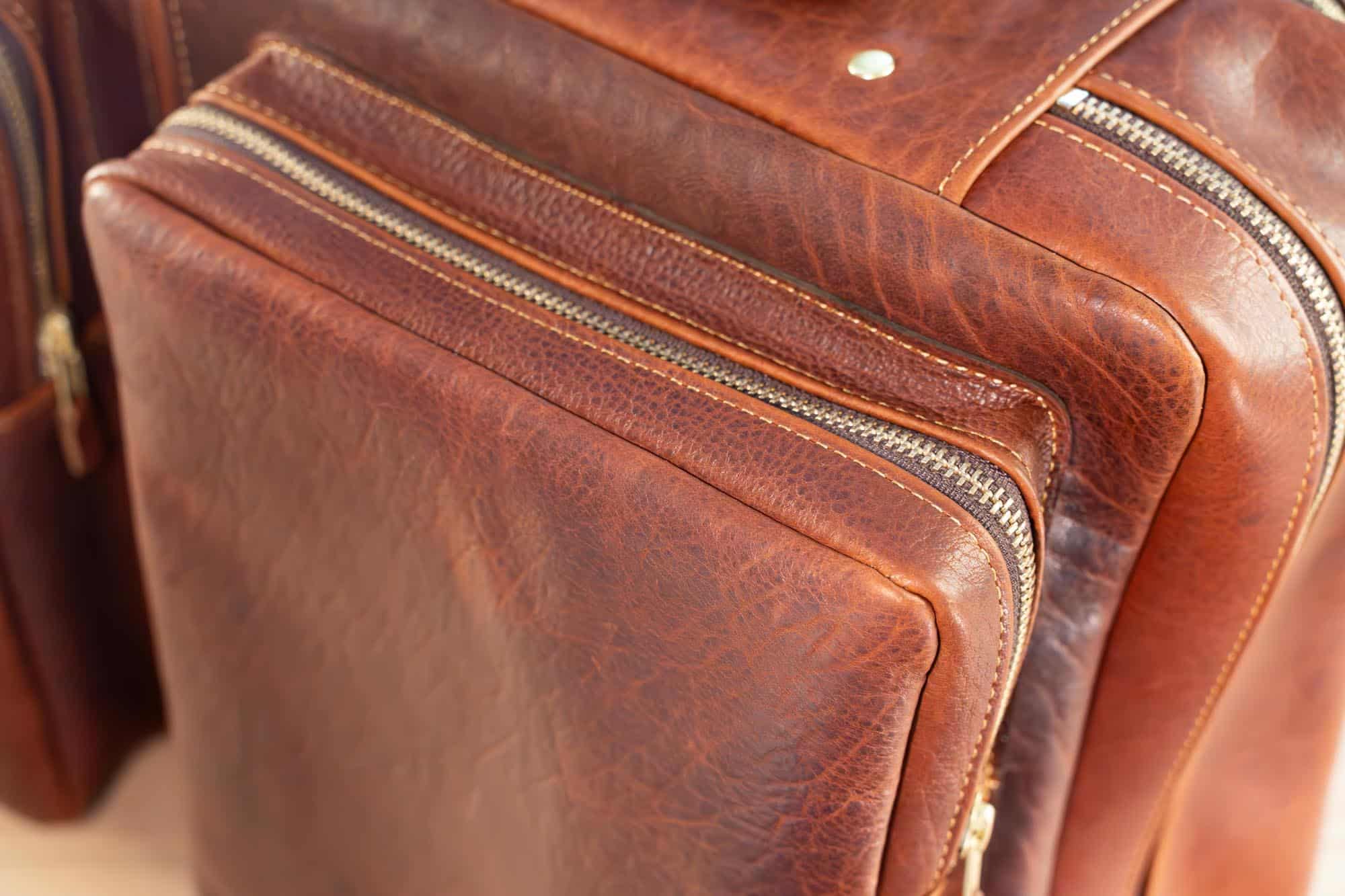 Brass Zippers
Our Flight Bags feature brass zippers to compliment the brass hardware. They are strong and durable zippers that glide smooth with each use. Each zipper has a leather zipper pull to help you unzip your bag with ease. The zipper pulls are made of the same high quality leather as your bag is made from.
Individually Handmade
Your Shrunken Bison Leather Flight Bag will be unique as each piece of leather is handpicked and then hand cut. This hands-on approach means we are able to give you the best quality bag available. We make sure to check every bag before it leaves our warehouse to ensure that all of the stitching, hardware and handles are perfect before we ship to your hands. Made in USA and built to last.