Western Cross Purse
We make this Western Cross Purse from genuine American Bison full grain leather. This crossbody leather purse features a holy cross that gives it some western flair. Women love this purse because it show cases some western bling in a very classy way. We make this bag with our unique trim style design that keeps it flush across your body. You can adjust the strap length on this purse using the solid brass buckles to get it to the perfect length. This handmade leather purse is made in USA and built to last!
Western Cross
This western cross purse showcases a holy cross on the front leather flap. We highlight the cross with a leather applique that gives this purse a distinct western style. Many women have seen and chosen this purse because of Buffalo Billfold Company's travels out west to art fairs.  across the Dakotas, Wyoming, Montana, Colorado and south to New Mexico, Arizona, and Texas.
Handmade Purse
This western crossbody purse has shoulder straps fastened to the back side of the purse, rather than on the centerline of the gusset because it keeps the purse thinner. That means the purse will lay flush against your side. This purse comes with a holy cross. You can easily adjust the strap using a smart looking, solid brass, center bar buckle. This purse is medium sized & wide enough so that it easily holds our buffalo French Clutch Wallet.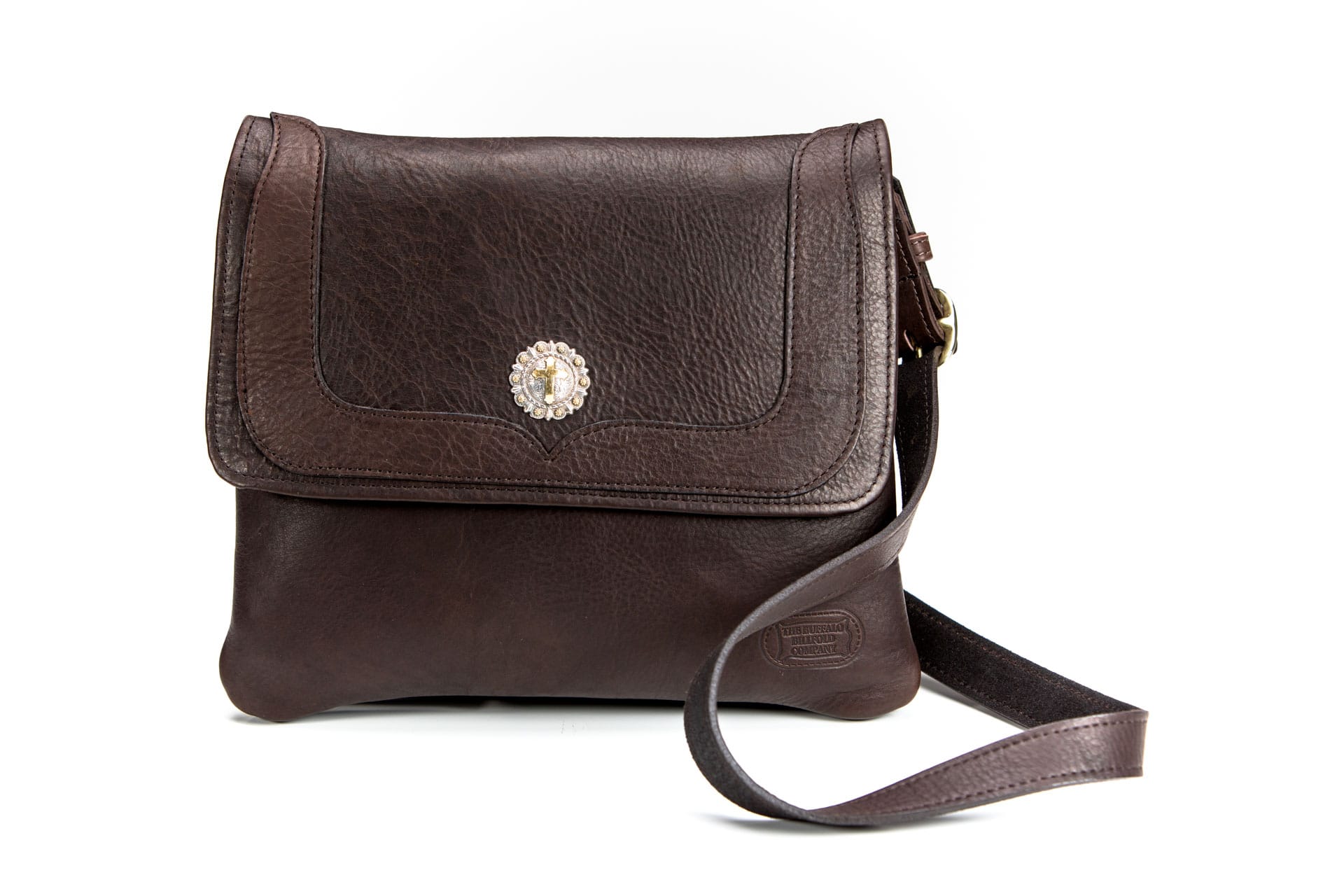 Details
Inside, you will find two interior pockets; one for a cell phone and the other containing a vinyl card case. We'e added a detachable key ring and snap coin pocket so you can easily carry your keys and coins. We go to great additional expense to put a finish on the back side of this beautiful leather. That means that we can make this purse entirely from buffalo leather. We don't use fabric lining because it wears out far too quickly! The Western Cross Leather Purse is Made in USA and built to last!