Handmade Leather Minimalist Wallet
Get rid of all that extra clutter with our Handmade Leather Minimalist Wallet. This slim wallet is handcrafted and Made in USA from the ground up using only the necessities. We use four finely cut pieces of American Bison full grain leather because it's stronger and more durable than other grades of leather. And we reinforce the edges of this rugged wallet with strong thread, adhesive, and a coating to give the edges an extra finish. Only the best will do!
The leather will stretch allowing this minimalist card wallet to hold many cards in each pocket. The leather is firm and solid when you get it, so add one or two cards at a time in each pocket until you get the custom fit you want. Guys love using this wallet in their back, front, or coat pockets. And the ladies tell us it works wonderfully in their pockets or purses. Our Minimalist Wallet is Made in USA and built to last!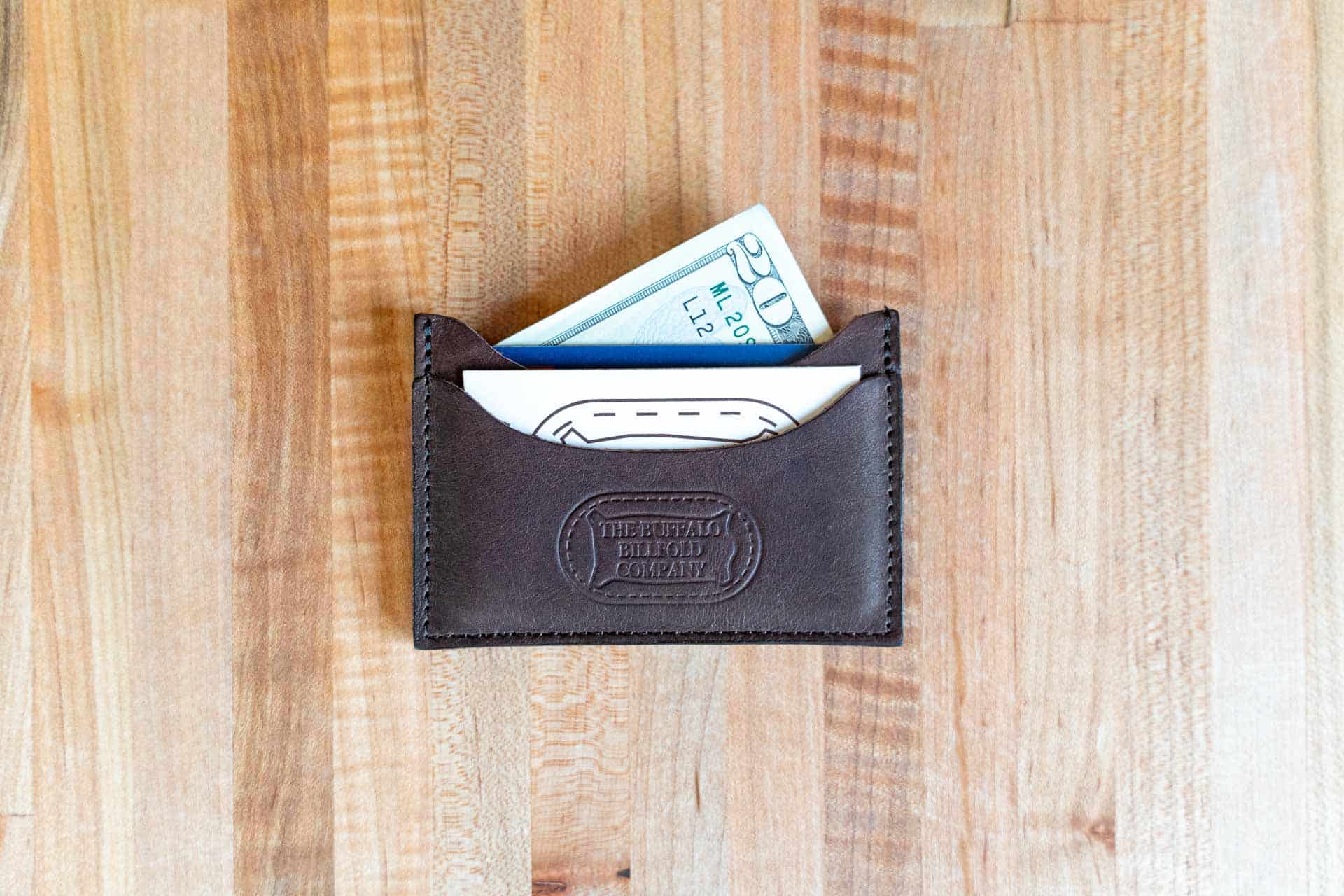 A Minimalist Wallet designed for you.
There are many things to consider when searching for the best minimalist wallet. There are many types of minimalist wallets out there, but we think ours is the best and here's why…
Our slim minimalist wallet is made from leather, which is flexible and highly durable. Metal clips will tear holes in your pockets and be uncomfortable, which is no good! Our's is constructed from only 2 materials: American Bison full grain leather (the strongest available), and highly durable (but not bulky) thread. We use a specific stretchier part of the hide (something machine-cut leather can't find) for the card pockets. This means that no matter the number of credit cards you put in, you get a custom fit. Last but not least, this minimalist wallet is Made in USA.
Slim, Tough, and Rugged
Our minimalist wallet is slim, tough and rugged because we go the extra mile to use the best materials possible. We use full grain leather because the strongest part is in the very top layer of fibers. You can tell when you look at good leather because you'll see the textures of the grains. Other minimalist wallets use top grain leather which is weaker because those strong fibers have been sanded and buffed away to give a smooth look. Looks aren't everything! But if you like that smooth leather look, know that after a few weeks of use, the full grain textures you see will start to smooth out with use.
Our full grain leather will develop an amazing patina over time! As this leather stretches to accommodate your cards, it will get a bit thinner but stay just as strong! What more could you ask for from a Handmade Minimalist Wallet Made in USA!