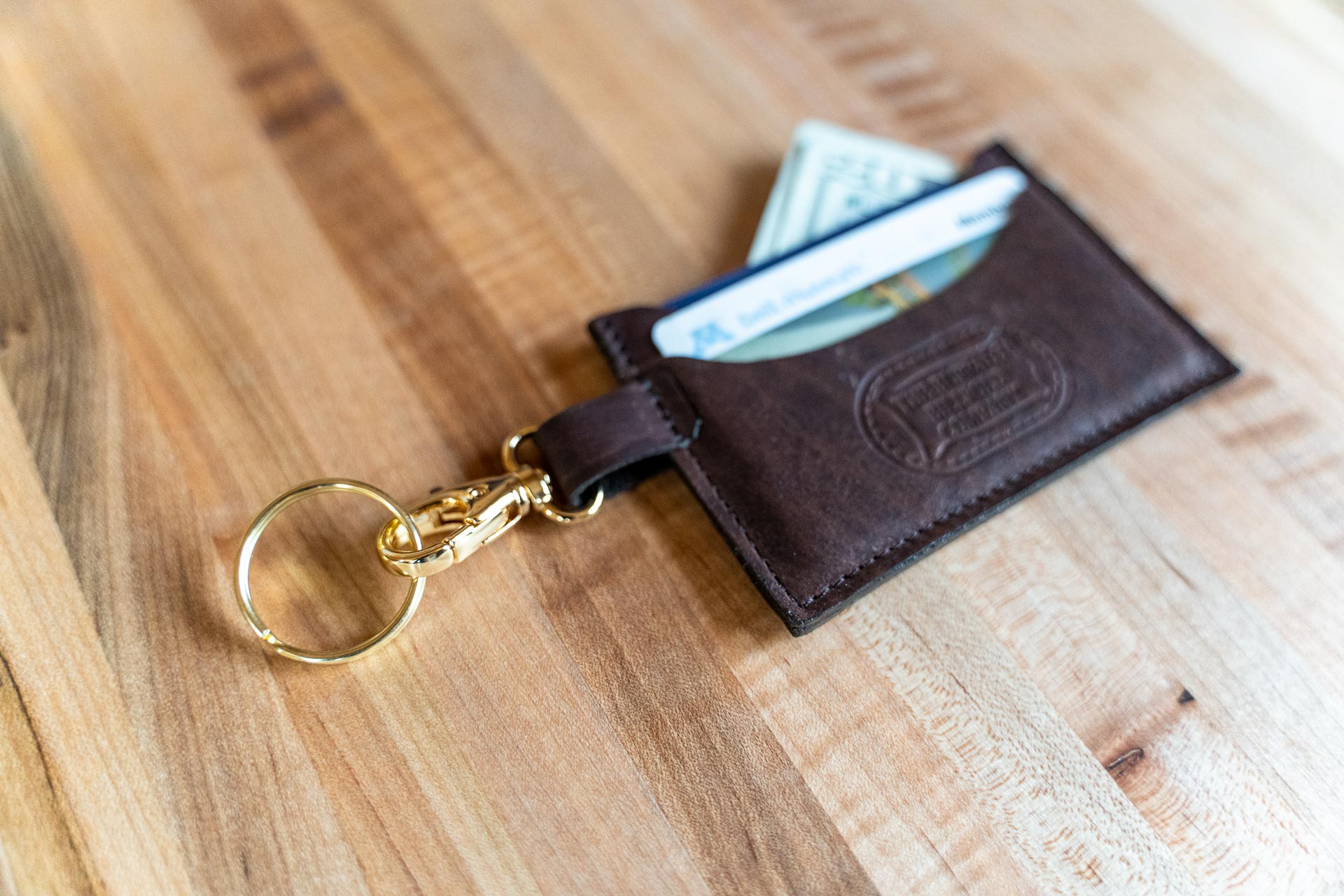 Leather Keychain Wallet
Get rid of all that extra clutter with our Leather Keychain Wallet. You can keep your cash, cards and keys in the same place and easily put in your pocket or purse. The leather will stretch allowing this minimalist card wallet to hold many cards in each pocket. The leather is firm and solid when you get it, so add one or two cards at a time in each pocket until you get the custom fit you want. Guys love using this wallet in their coat pockets and in their car. And the ladies tell us it works wonderfully in their coat pockets or purses. Our Keychain Wallet is Made in USA and built to last!
In Your Pocket or Purse
Width: 4 in
Height: 2 3/4 in
Thickness: 3/16 in
Brass Clip with Keyring
The leather loop, brass clip, and key ring extend out from the side of this wallet by 3 inches. If you measure full across from the tip of the keyring to the other side of the wallet, it is 7 inches
Product Filled Dimensions
Width: 4 in
Height: 2 3/4 in
Thickness: 3/8 in
Brass Keyring Clip
This leather Keychain Wallet has a brass keyring clip to secure your wallet to your belt, pant loop or purse. It's also great to put your car keys or house keys on making it the ideal grab and go wallet.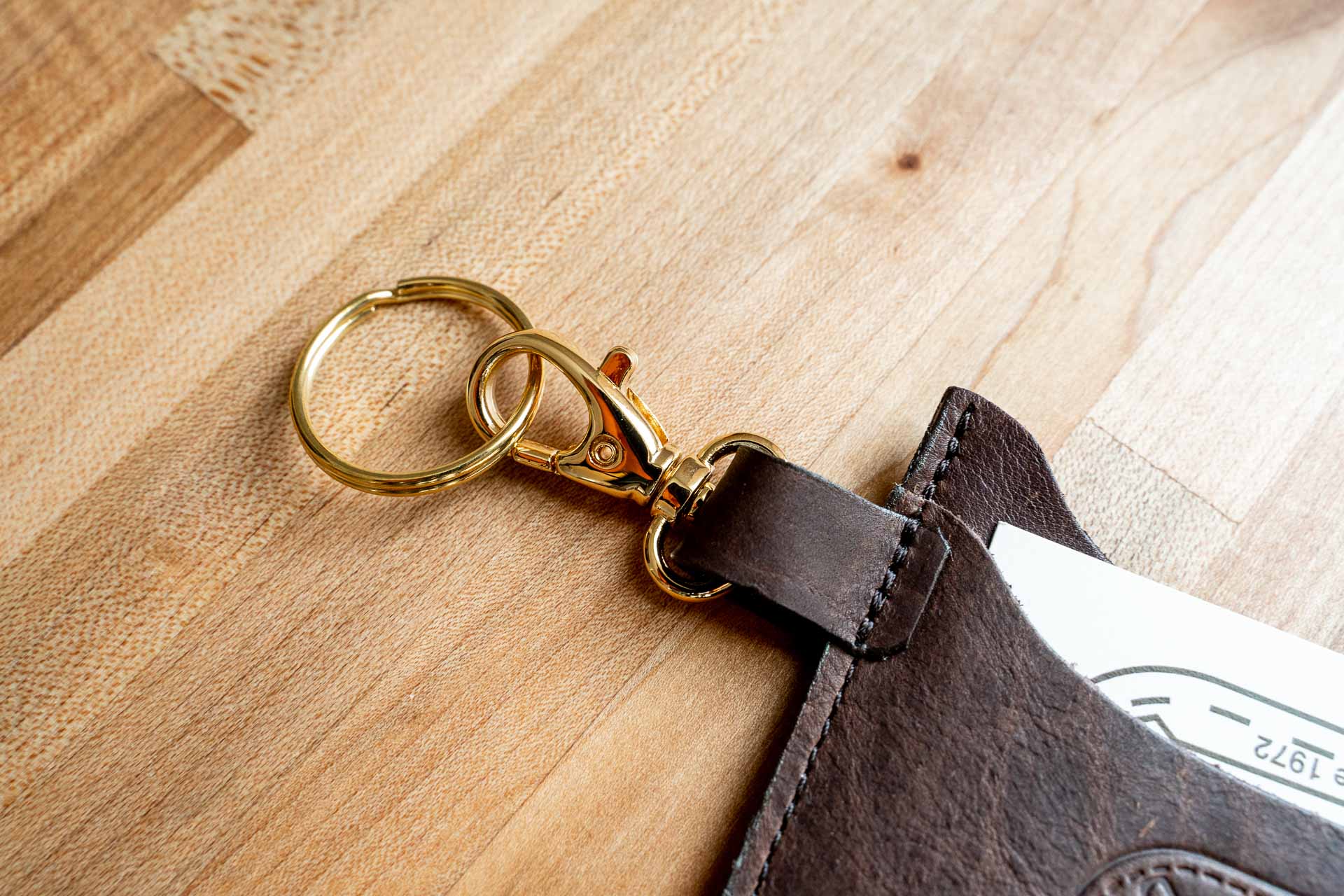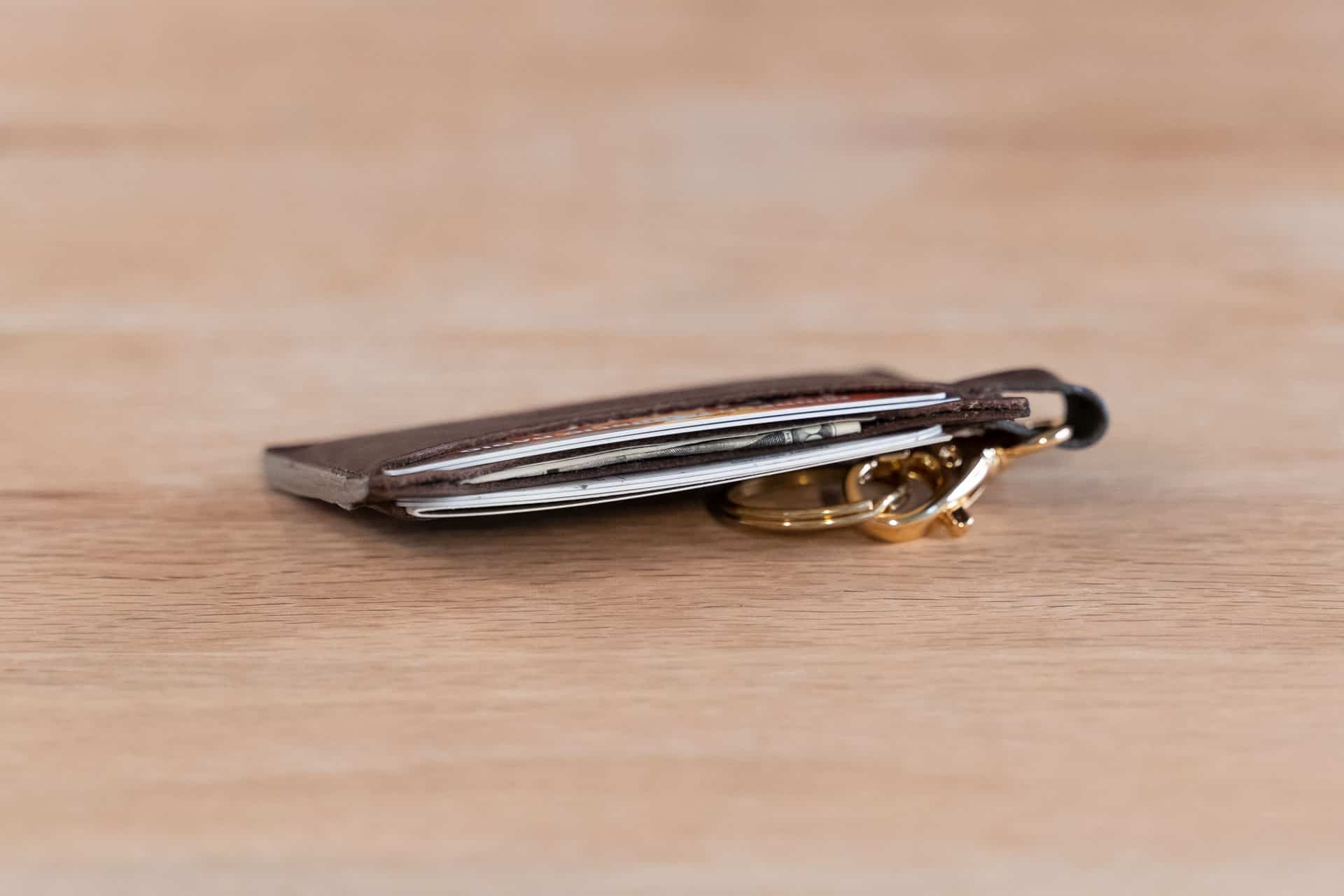 Less is More
We handcraft this leather keychain wallet from leather because it's flexible and highly durable. In fact, we only use 3 materials: American Bison full grain leather, highly durable thread, and a solid brass clip. We've removed points of failure on this wallet by only using strong and durable materials. This keychain wallet is built to last.
Made in USA
We craft this Handmade Leather Keychain Wallet in our workshop in Worthington, MN, USA. Our master leathersmiths make sure that every piece of leather, every stitch sewn, and every thread trimmed is done to our highest standards. Our Leather Minimalist Wallets, including this thin keychain wallet are Made in USA and built to last.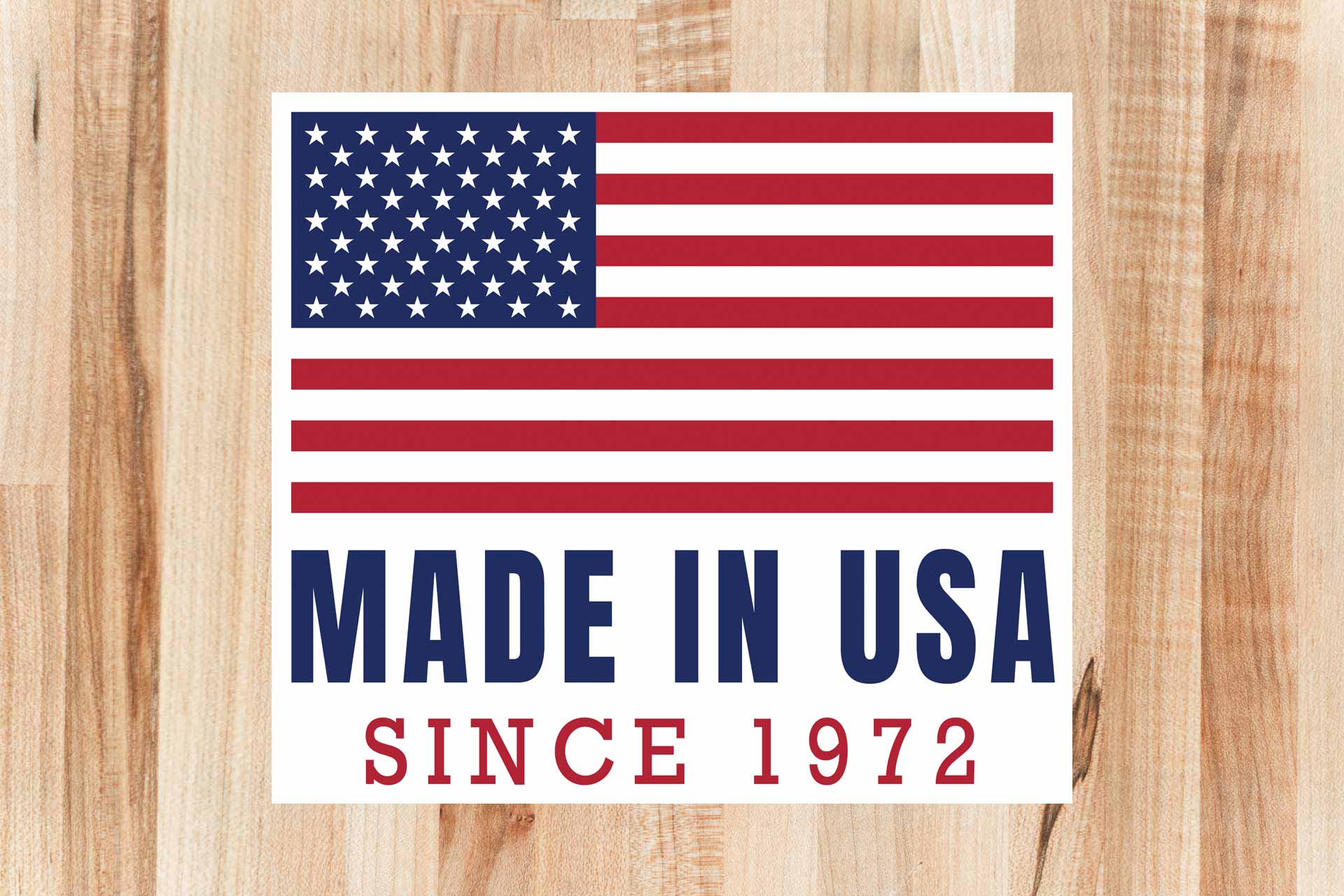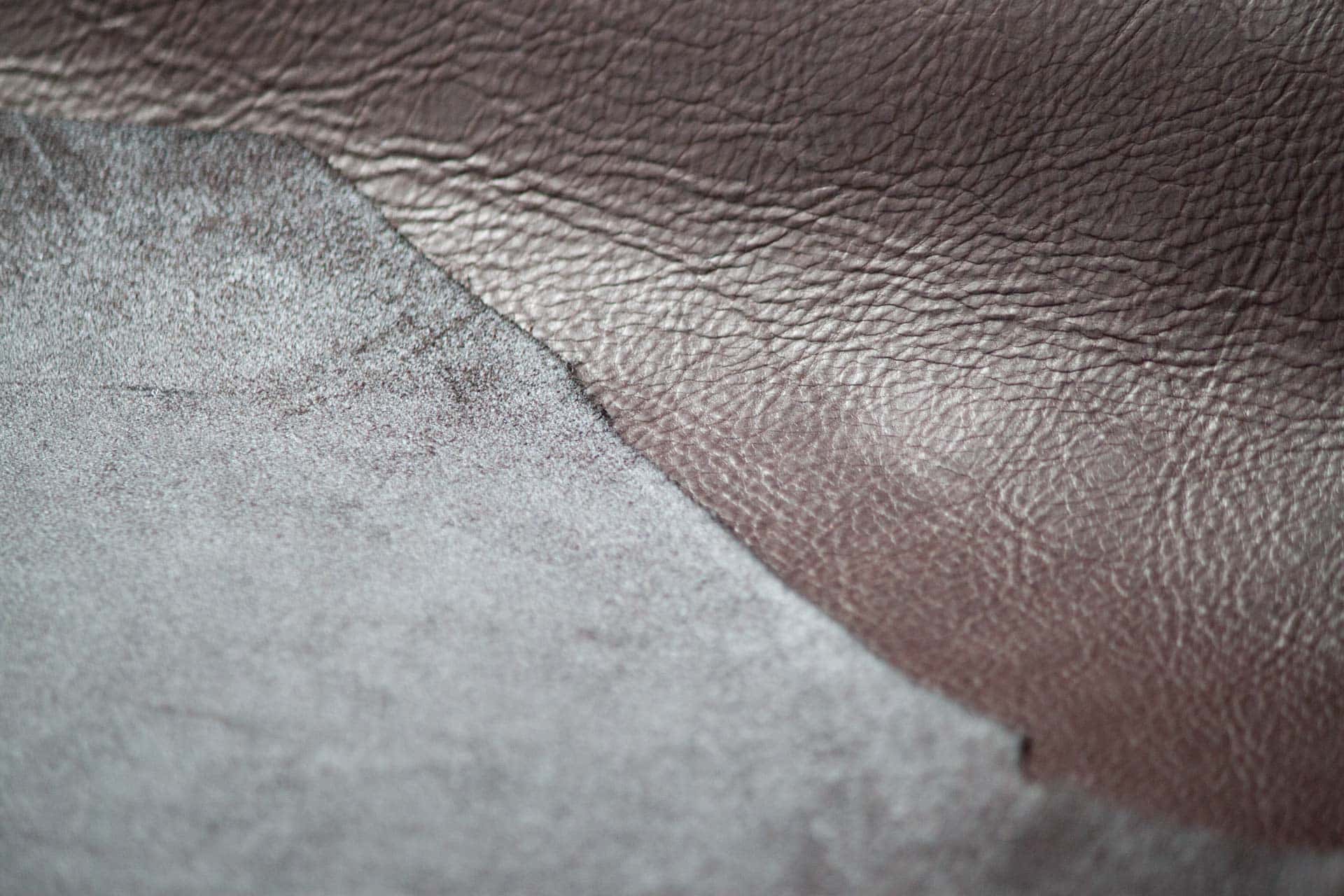 Full Grain Leather
Our Leather Keychain Wallet is made using Full Grain Leather. Full Grain Leather is the best grade leather and best quality leather. This type of leather is durable, breathable, and strong. It has not been sanded down, so it contains natural markings. Your Leather Wallet will be as unique as you are!